Hospital and Home Contamination Control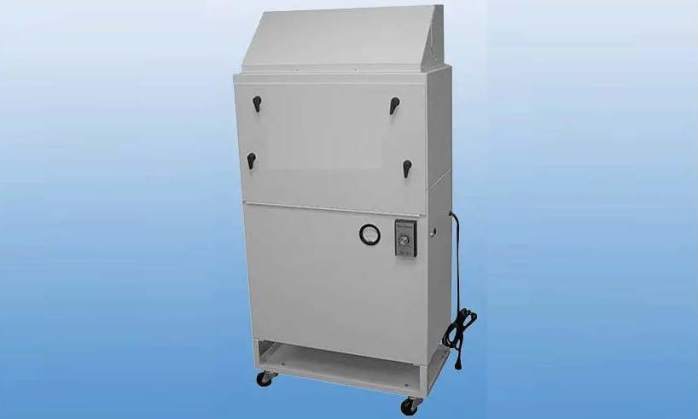 The XJ-2 is becoming increasingly popular in offices and businesses where airborne germs and saliva droplets are contaminating the breathing zones of the people within the space.
The XJ-2 is a whisper-quiet ergonomic HEPA Filter portable contamination control unit for use in airborne infection isolation rooms (AIIR), hospital isolation rooms, medical settings, labs and in hospital infection control applications. Utilizing a dynamically balanced motorized impeller, the XJ-2 air purification system runs smoothly and isinfinitely adjustable with minimal noise. Easily configured for use as a negative or positive pressure unit, or for recirculation, the XJ-2 commercial air purifier quickly installs to any standard wall or can be used with its standard roll aroundbase. It's TRUE HEPA filtration provides the maximum available air filtration (and air changes per hour) available for hospital isolation rooms and infection control. The XJ-2 provides the most cost-effective solution for hospital air purifiers. Hospitals value the extra options available with the XJ-2 such as recirculation plenum, wall mounting kit and tamper resistant security cover. Replacement parts are always just a phone call away: (800) 635 0298
Features:
INDEPENDENT LAB TESTED Unlike some units where just the filter is tested to HEPA efficiency, the XJ-2 was independently lab tested in its entirety to be 99.999% efficient on 0.3 micron particles.
QUIET: The XJ-2's Quiet operation design features include a backward curved, dynamically balanced impeller and a sound dampening blower baffle to reduce sound levels to a minimum.
EFFECTIVE FILTRATION TECHNOLOGY: The XJ-2's certified HEPA air filter is highly effective in removing microorganism-sized particulate. The 80-85% efficient prefilter protects the HEPA filter reducing maintenance costs. Provides 12 air changes per hour, enough for most hospital rooms.
EASY INSTALLATION: The XJ-2 is shipped fully assembled and ready for rollin installation.
Specifications:
| | |
| --- | --- |
| Dimensions & Weight: | 55" H x 26.5" W x 15" D x 140 lbs. |
| Air Flow Capability: | Adjustable from 115 CFM to 1000 CFM |
| Pre-filter: | 80-85% ASHRAE efficient |
| Primary filter: | HEPA (99.97% DOP efficient at 0.3 microns) |
| Filter Pressure Gauge: | Mini-Helic® 0" to 3" range |
| Power Requirements: | 115Vac, 60 Hz, 4 Amps, 400 Watts |
| Sound Levels: | 35 dBA @ 115 CFM and 66 dBA @ 775 CFM (tested 4' from unit) |
| Cabinet: | Heavy-gauge, welded steel cabinet with white powder coat finish. |
| Base: | Standard base includes four swivel casters. |
MiracleAir HEPA Home Air Cleaner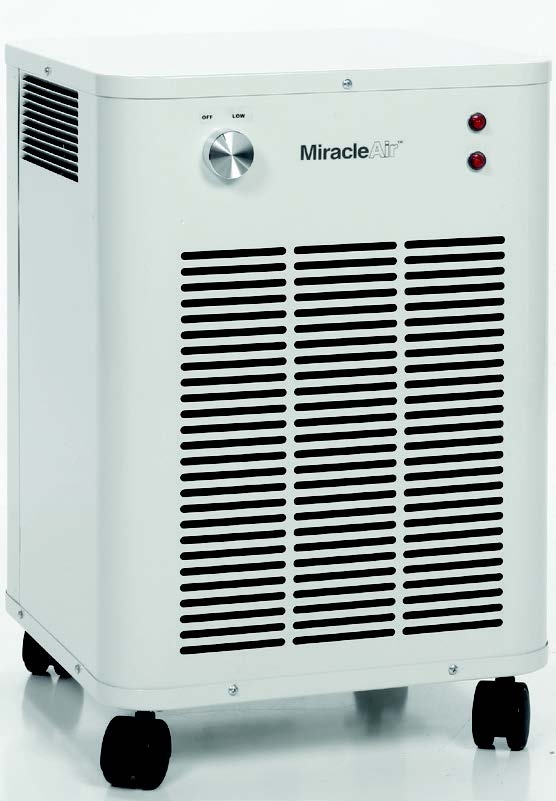 How to Get the Freshest-Smelling, Cleanest, Most Breathable Air in Your Home or Office
It's that simple. That's because the MiracleAir™ delivers exactly what you need – clean, fresh-smelling, breathable air – from a high-performance, superior air cleaner that contains the same powerful robust odor-control components found in industrial and commercial air filtration units. In fact, the MiracleAir™ 15-pound ultra-absorbent carbon filter is one of the hardest working, most effective odor-eliminators on the market today.
Features:
Cleans and sanitizes the air by trapping pollutants, allergens, dust and other particles with true HEPA filter. (99.97% @ .3μ with 82 sq. ft. of surface area.)
Powerful odor control capabilities utilizing 15 lbs. of activated charcoal
Optimal airflow in all conditions with the infinitely variable speed motor/blower
Completely portable and easy to move with included casters.
Technical Specifications:
| | |
| --- | --- |
| Airflow: | 0-400 CFM* infinitely variable speed control |
| Pre-Filter: | Impregnated carbon pre-filter |
| HEPA Filter: | True HEPA with 82 sq. ft. of filtration area |
| Odor Control: | 15 pounds activated carbon. Other blends available. |
| FAN/MOTOR: | Dynamically balanced precision-built motor/blower for smooth vibration-free operation |
| Sound Level: | At 3 meters, 64 dBA on high, 35 dBA on low |
| Power Consumption: | 250 Watts at maximum airflow |
| Voltage Required: | 120 Volts, 2 amps, 60Hz or 240 Volts, 1 amp, 50/60Hz |
| Size: | 15.6 W x 15.6 D x 22.5 H |
| Weight: | 49 lbs, Approximate shipping weight 57 lbs. |
| Housing Finish: | Durable powder-coated enamel finish |
*Airflow rating with .9" water differential pressure across filters. Airflow at other conditions will vary.
Related Files