Cabinet Dust Collection for Granite Shop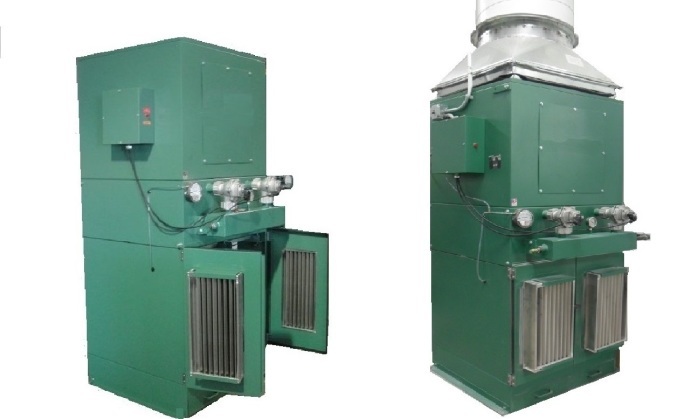 The PBM Cabinet Style Dust Collectors provide superior dust control in stone cutting and sanding shops.
99.97% guaranteed efficiency at 0.3 micron particle size!
Manufactured using 11- and 14-gauge steel and painted with a heavy industrial powder coated textured finish for harsh environments. These machines are very flexible, and multiple uses for the PBM can be achieved by offering a variety of air inlet choices depending on applications. For example, hinged removable side inlet doors improve the overall efficiency of the PBM's capturing of the ambient dust. If the dust is abrasive or has sparks, air inlet choices of either louvered or metal mesh are available.
Sticky dusts are removed prior to the cartridge using inexpensive off-the- shelf pleated filters, which protect the more efficient and expensive cartridge filter. As processes or operations change within your shop, all of these inlet options can be swapped with ease by simply removing the inlet doors. Quiet operation for the PBM is available through factory-installed acoustical lining inside the blower housing. If further noise reduction is required, a silencer is available. Energy savings provide a rapid return on your initial investment.
PBM units return cleaned air to the plant environment. This eliminates the need to exhaust the air outside, and makes make-up air (and its associated heating and/or cooling costs) unnecessary. For clean exhaust air, customers should choose the option of a HEPA after-filter, which provides 99.97% guaranteed efficiency at 0.3 micron particle size.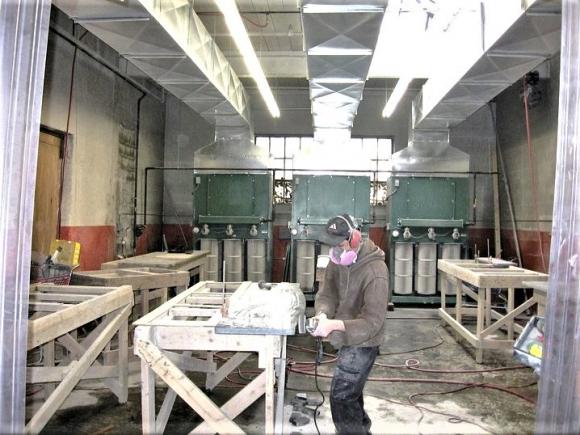 Features
Basic PBM units include either four or six pleated cartridge filters rated at 99% efficient
Reliable, efficient electric motor, controlled and protected by a manually operated adjustable fused disconnect switch
Servicing the PBM is easily possible with the filter or Magnehelic gauge
Less maintenance work on the PBM is required due to the great amount of filter surface area
Manufactured using 11- and 14-gauge steel and painted with a heavy industrial powder coated textured finish
Flexible usage due to a variety of air inlet choices
Quiet operation
Energy savings provide a rapid return of initial investment
Meets or exceeds OSHA Silica requirements
Specifications
| | Aitflow (CFM) | # of Filters / Total filter area | Dimensions in inches |
| --- | --- | --- | --- |
| PBM-4 (5HP) | 3,200 | 4 / 1096 sq ft | 37x38x86 |
| PBM-6 (7.5HP) | 5,000 | 6 / 1644 sq ft | 54x38x86 |
Related Files