Vacuums for: Cleanrooms | Pharma | Semiconductor | NUC | Biohazard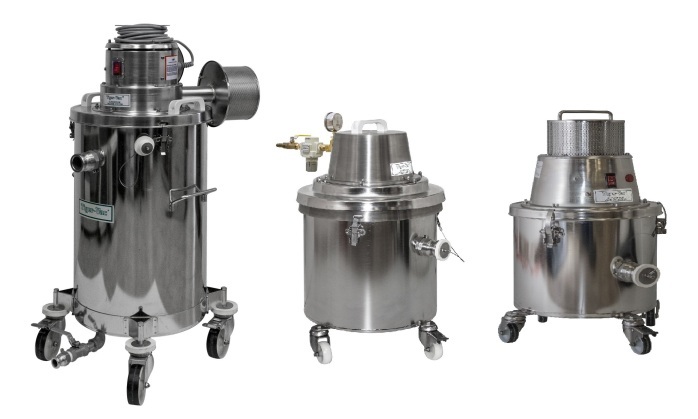 We have a full range of electric and pneumatic vacuums designed for vacuuming within Cleanrooms, Labs, Semiconductor, NUC, and Biohazard.
CWR-10 (PHARMA) - Pharma - Wet & Dry Recovery
Features
ULPA filter with an efficiency of 99.999% on 0.12 micron. Filtration efficiency of 99.9995% on 0.18 micron. Tested IEST-RP-CC001. U15 by MPPS method as per EN 1822. All of our ULPA vacuum systems are aerosol leak tested before leaving our facility - included
Cleanroom compatible with ISO Class 4 (former Class 10). Can be used in the Pharmaceutical industry
Static free and ESD safe
EMI/RFI Shielded
Autoclavable sieve basket with stainless steel mesh filter
Designed for the recovery of broken ampules and glass
Heavy duty 2-stage by-pass motor
For wet & dry recovery
Electropolished stainless steel recovery tank
Liquid recovery capacity of 7.5 gal. (53L) of coolant in the recovery tank and 4 gal. (47L) of chips in the sieve basket
Mounted on a 4-Wheel Dolly for easy maneuverability
Includes a complete tool kit.
Specifications: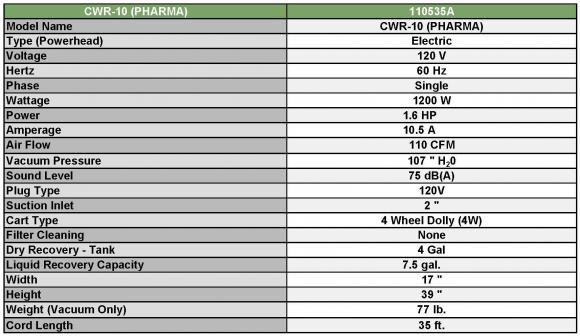 CR-1200D Dry Only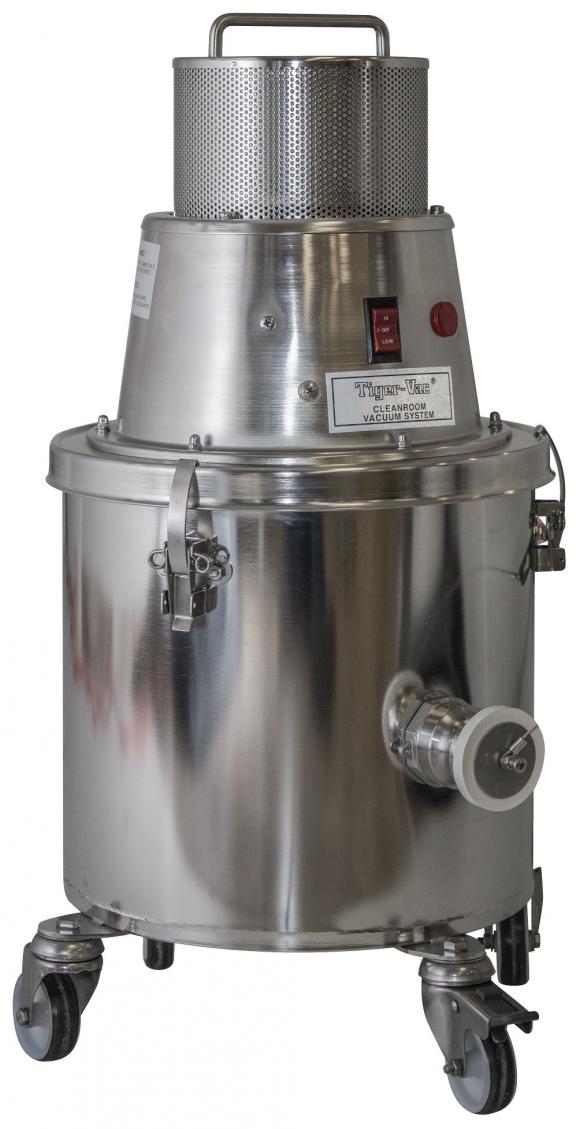 Tiger-Vac cleanroom vacuum cleaners are equipped with H14 HEPA Filters and U15 ULPA Filters as per EN 1822.
The HEPA and ULPA filters are individually laser tested and every cleanroom vacuum that leaves our factory is aerosol leak tested.
New Generation cleanroom vacuum cleaner for dry recovery only. Designed specifically for the Pharmaceutical, Semiconductor and Microelectronics industries. Compatible with ISO Class 4 cleanroom conditions as defined in ISO 14644-1 (Class 10 as per FED STD 209E). Complete stainless steel construction with electropolished finish to remove surface contamination. Recovery tank and wheels are autoclavable up to121°C. Powerful suction and quiet operation. Compliant with GMP Standards.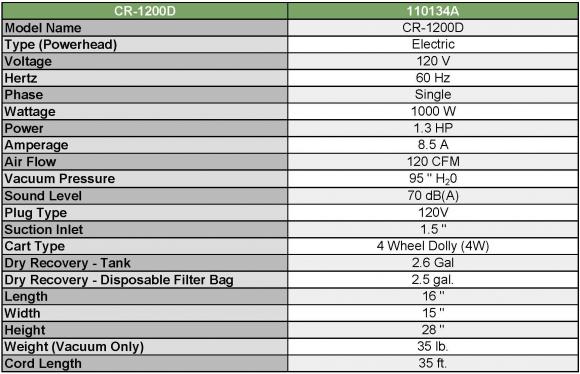 CR-1300 Wet-Dry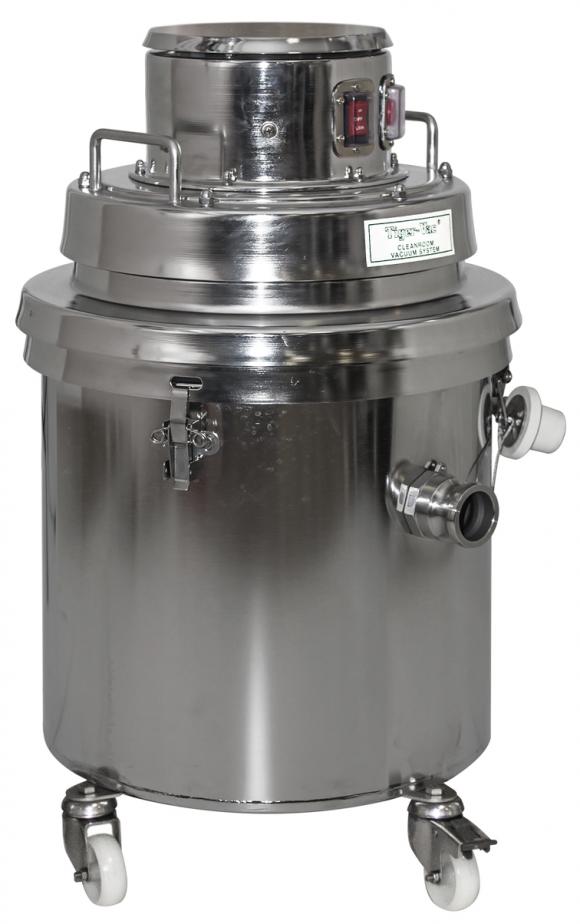 New Generation cleanroom vacuum cleaner for wet & dry recovery
Designed specifically for the Pharmaceutical, Semiconductor and Microelectronics industries
Compatible with ISO Class 4 cleanroom conditions as defined in ISO 14644-1 (Class 10 as per FED STD 209E)
Complete stainless steel construction with electropolished finish to remove surface contamination. Recovery tank and wheels are autoclavable up to 121°C
2-stage bypass motor provides powerful suction and quiet operation
Compliant with GMP Standards
Each vacuum is aerosol leak tested before leaving our factory
Multiple stages filtration system. Simple and reliable filter change
Two absolute ULPA filters , rated U15 as per EN 1822, are placed at both the working air and the cooling air exhausts of the vacuum cleaner. These filters ensure the cleanroom compatibility of the vacuum cleaner assembled with a bypass motor
ULPA filter with an efficiency of 99.999% on 0.12 micron. Filtration efficiency of 99.9995% on 0.18 micron. Tested IEST-RP-CC001 - included
The primary filters consist of a disposable collection bag and a primary filter made of polyester. Filtration Class M as per IEC 60335-2-69
The recovery tank is made of SAE 316 stainless steel and is fully autoclavable (up to 121°C) including the white nylon wheels. Static conductive grey wheels (non-autoclavable) are available upon request
The stainless steel floater (liquid cut-off) is detachable for easy dismantling and maintenance. It is also autoclavable (up to 121°C)
Easy storage of the power cord on the powerhead
A variety of accessories are available, including autoclavable and ESD safe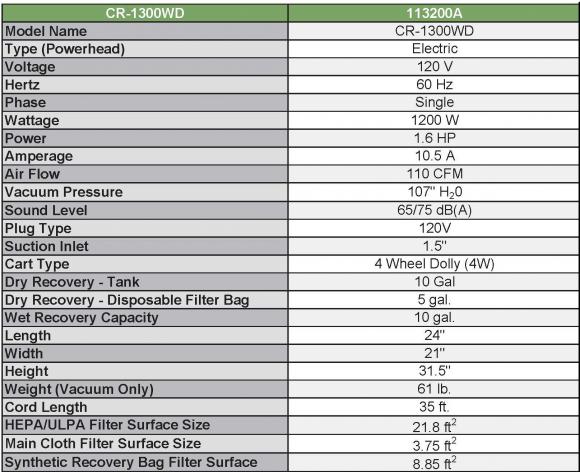 CR-1400WD CR-1400D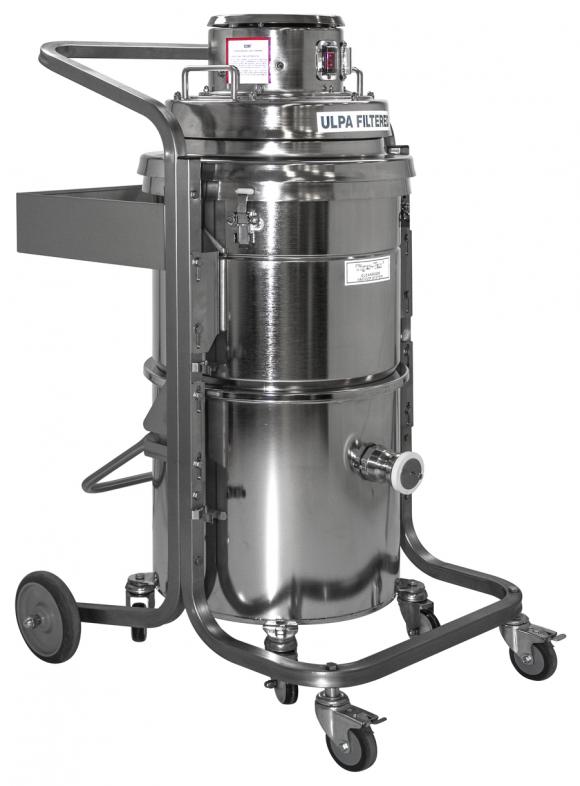 New Generation cleanroom vacuum cleaner is available in dry recovery only, or in wet & dry configurations
Designed specifically for the Pharmaceutical, Semiconductor and Microelectronics industries
Compatible with ISO Class 4 cleanroom conditions as defined in ISO 14644-1 (Class 10 as per FED STD 209E)
Complete stainless steel construction with electropolished finish to remove surface contamination.
Recovery tank and wheels are autoclavable up to 121°C
2-stage bypass motor provides powerful suction and quiet operation
Compliant with GMP Standards
Each vacuum is aerosol leak tested before leaving our factory
Multiple stages filtration system. Simple and reliable filter change
Two absolute ULPA filters , rated U15 as per EN 822, are placed at both the working air and the cooling air exhausts of the vacuum cleaner. These filters ensure the cleanroom compatibility of the vacuum cleaner assembled with a bypass motor
ULPA filter with an efficiency of 99.999% on 0.12 micron. Filtration efficiency of 99.9995% on 0.18 micron. Tested IEST-RP-CC001 - included
The primary filters consist of a disposable collection bag and a primary filter made of polyester. Filtration
Class M as per IEC 60335-2-69
The recovery tank is made of SAE 316 stainless steel and is fully autoclavable (up to 121°C) including the white nylon wheels.
Static conductive grey wheels (non-autoclavable) are available upon request
The stainless steel floater (liquid cut-off) is detachable for easy dismantling and maintenance. Itis also autoclavable (up to 121°C).
The autoclavable floater is standard for the CR-1400WD and optional for the CR-1400D
Easy storage of the power cord on the powerhead
A variety of accessories are available, including autoclavable and ESD safe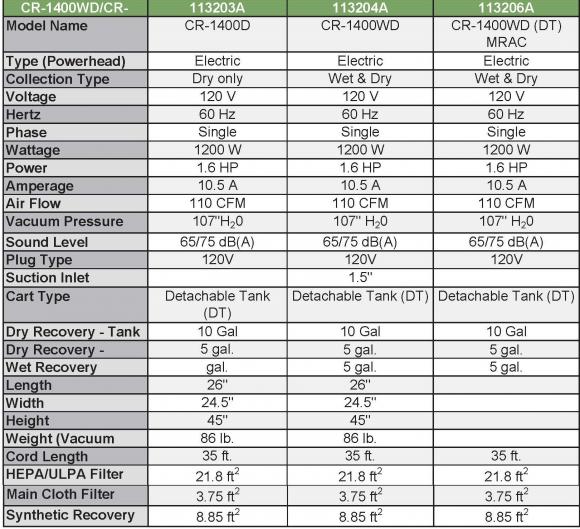 ATEX-40A (CR) Pneumatic (air-operated) Cleanroom Vacuum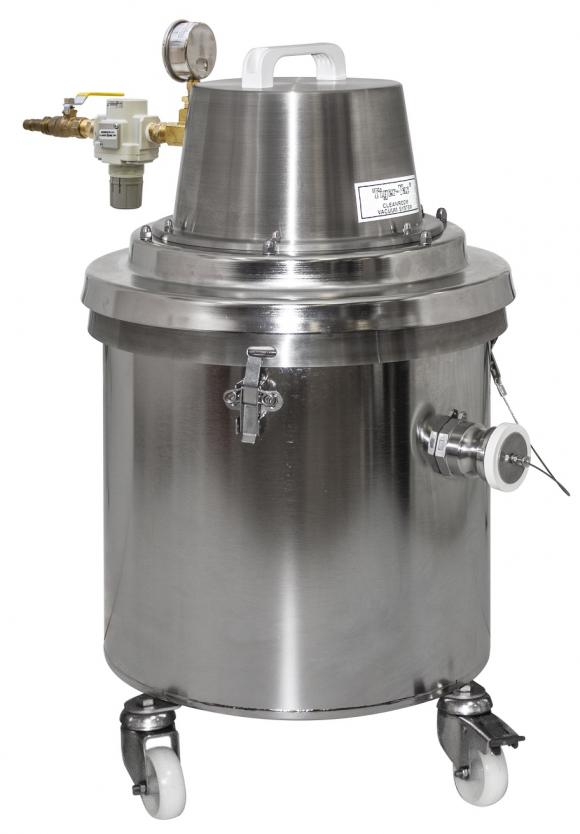 Legally certified explosion proof/dust ignition proof by an OSHA approved Nationally Recognized TestingLaboratory (NRTL)
Less than 10 ohms of resistivity
ULPA filter - downstream - included. With an efficiency of 99.9995% on 0.12 micron. Tested IESTRP- CC001. U15 by MPPS method as per EN 1822 and OSHA compliant. All of our ULPA vacuum cleaners are aerosol leak tested before leaving our facility. HEPA filter - upstream - also included for dry only version
Cleanroom compatible with ISO Class 4 (former Class 10). Can be used in the Pharmaceutical industry
For dry recovery only or wet & dry recovery
All stainless steel SAE 304/316 construction
Includes a complete static dissipative tool kit
Low noise level - only 68 dB(A)
The recovery tank is made of SAE 316 stainless steel and is fully autoclavable (up to 121°C) including the
white nylon wheels. Static conductive grey wheels (non-autoclavable) are available upon request
Pressure regulator included. Pressure regulator is adjustable between 0 psi. (0 bar) to 150 psi. (10 bars). It is factory set at 80 psi. (5.5 bars) for ideal performance and noise level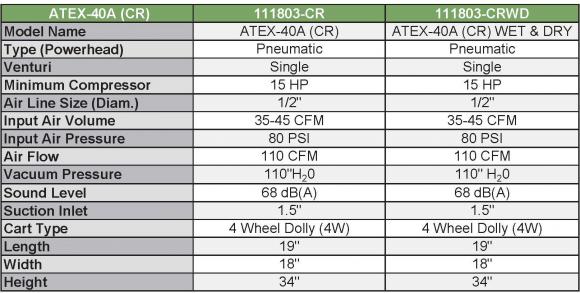 Nuclear Waste & Biohazard Substances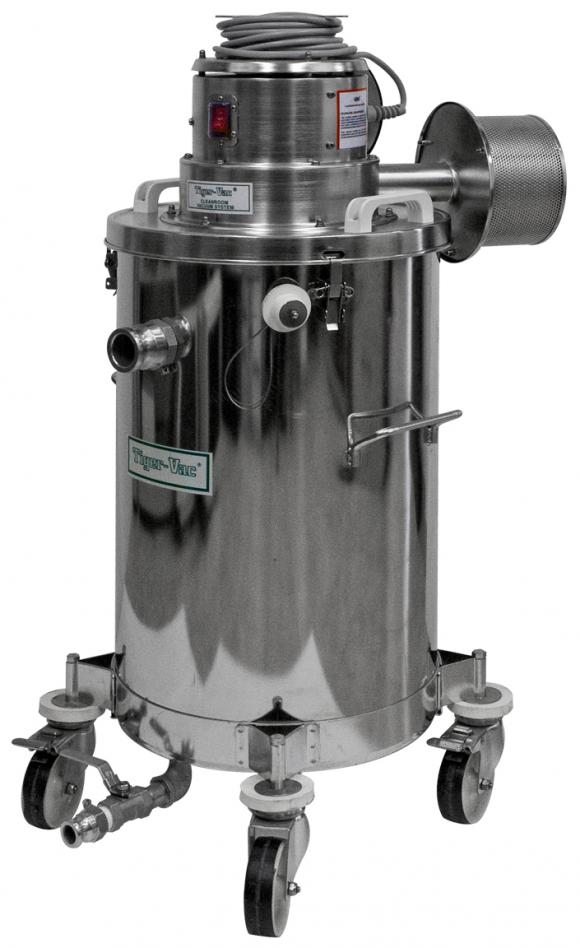 HEPA filter with an efficiency of 99.995% on 0.3 micron. Tested IEST-RP-CC001. H14 by MPPS method as per EN 1822 and OSHA compliant. All of our HEPA vacuum cleaners are aerosol leak tested before leaving our facility - included
For hospital decontamination and recovery of foam
Bypass heavy duty motor
For wet & dry recovery
GFCI (Ground Fault Circuit Interuptor) installed on the
power cable
All stainless steel SAE 304 construction
Polyethylene recovery tank available
Recovery tank is autoclavable
4-wheel dolly is autoclavable
Includes defoaming liquid
Includes a complete tool kit which consists of a clear FDA compliant suction hose and stainless steel extension wands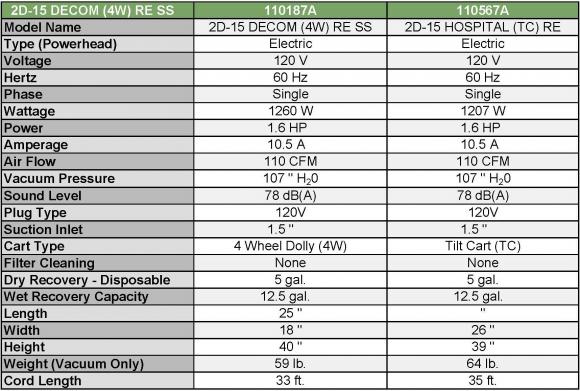 Related Files