Explosion-Proof Vacuum for 3D Printing
A Vacuum was needed for the recovery and INERTIZATION of combustible dust into a liquid immersion bath.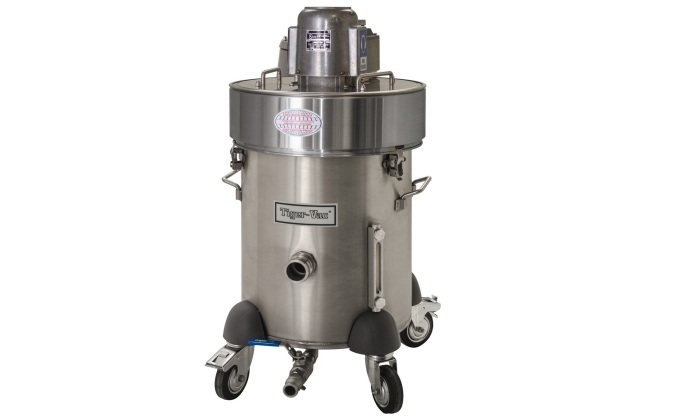 The Problem
The Health & safety Offier of a Midwest University approached Controlled Air Design about providing a solution for cleanup of 10 to 12 gallons per day of explosive titanium dust from 3-D printing operations at the University. Water can actually act as an accelerant on burning titanium. Water and molten titanium can cause a violent explosion. The vacuum also needed to have an immersion bath filled with a special neutralizing oil to quench titanium dust sparks. Per NFPA 484 the vacuum needed to be Group E Certified.
The Solution
We recommended the Tiger-Vac® EXP1-10 (IT-40L) CFE HEPA Immersion Separator as it is NRTL rated for Class I, Division 1, Division 2, Group D, T3C and Class II, Division 1, Division 2, Groups E, F and G. It is also HEPA filtered to 99.97% eff @ .3 micron. Source capture keeps harmful dusts and fumes away from from the operator's breathing zone. A very popular feature of the Tiger-Vac® EXP1-10 (IT-40L) CFE HEPA is that it allows the dust to be collected in a conductive bag that lines the hopper tank. The conductive bag sits within the immersion bath that is filled with neutralizing oil for titanium dust.
The vacuum can be directly connected to a pickup point on the 3D printer, but the client also needed to use it with the optional extraction arm.
The vacuum had been in use for about 6 weeks when the plant manager reported that the Tiger-Vac® EXP1-10 (IT-40L) CFE HEPA improved efficiency and returned clean breathable air back into the work space.
The local AHJ has since recommended its use on other explosive dust vacuuming projects.
Related Files
Related Products