Die Cast Fume Collection
We were approached by a national automotive parts manufacturer to provide a cost effective solution for fumes generated by mold-release lubricants used in their engine die casting operation.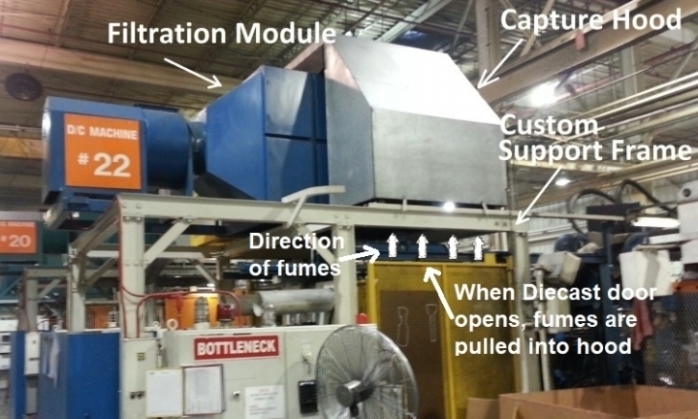 The Problem
Controlled Air Design was approached by a leading engine manufacturer to provide a solution for fumes generated during the die casting of aluminum engine heads. Before the molten aluminum is poured into the molds, a lubricant is applied to allow easy release of the hardened aluminum cast from the mold form. Once the doors of the die cast machine would open, a plume of fume from the mold release escaped into the work area. The client had already tried several systems, but too frequent filter change-outs had become very expensive.
The Solution
We recommended our Die Cast 18000 with a custom canopy hood that is moveable. We mounted the Die Cast 18000 on a custom frame above the Die Cast machine. It contained cleanable Chevron impinger prefilters mounted in series. The second cabinet contains a cleanable metal mesh filter followed by a pleated multi-vee intermediate filter, and the fourth filter stage multi-pocket ASHRAE fiberglass vee-bag-filter. The third and final cabinet houses a cleanable metal mesh filter and a sixth-stage HEPA filter rated 99.97% efficient at 0.3 microns.
Having the cleanable filter stages was a huge cost saving for the client. After 6 weeks of operation the plant manager reported a cleaner and more productive work environment.
Related Products