PBM Cabinet Style Dust Collectors
PBM Cabinet Style Dust Collectors with .3 micron @ 99.97% efficient HEPA filtration for heavy-duty sanding.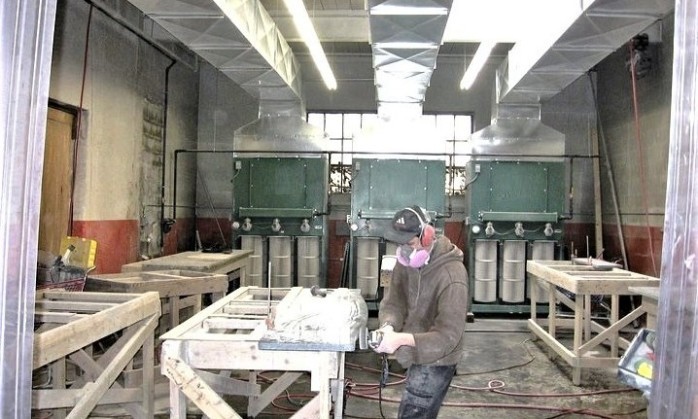 The Problem
Workers who are exposed to respirable crystalline silica dust are at an increased risk of developing serious silica-related diseases. Recently updated OSHA standards require employers to take steps to protect workers from exposure to respirable crystalline silica. When this became law, we were approached by a granite counter-top manufacturer to provide a compliance solution.
The Solution
We took some measurments and calculated that the customer would need three of our PBM-6 units. The max number of operators sanding at one time, and also the characteristics of the dust, itself were some of the factors also taken into consideration. We set each PBM-6 unit up so the discharge air is exhausted into a duct that is stragically exhausted back into the front of the shop to help blow the dust back toward the inlets of the PBM-6 units. This is a very effective method of reducing airborne stone dust. It is also a good method of retaining cooled or heated air. With as many as five people sanding at the same time we were able to eliminate upwards of 95% of airborne dust.
The customer was very happy with the solutions provided and reported a safer and more productive working environment.
Related Files
Related Products