NSF Approved Tower Packing Media
NSF-Approved Tower Packing Media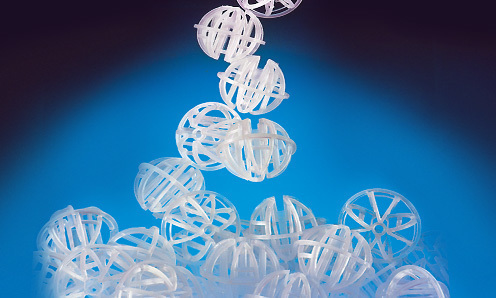 The Problem
The plant manager from a water treatment facility in West Virginia called one day asking for an NSF-approved solution for stripping harmful chemicals from the towers that supplied the town's drinking water. The existing packing media being used was a cheap imported variety made from inferior resins, and was not NSF-approved. The packing media balls were also crumbling when squeezed by hand. This is a quick way of testing the quality of resins used in the manufacture of Polypro Tripacks: if it crumbles under slight squeezing pressure, then it simply isn't suitable. They performed the same test with our packing media balls and found that it did not crumble or break.
The Solution
We measured the pack bed and determined that 3,000 cu. ft. of 3.5" Tripacks would be needed. We recommended NSF/ANSI/CAN 61-approved Polypropylene Tripack spherical balls. These are made in the USA from premium resins. Because they are bulky, shipping can be expensive. However, our supplier has stock at numerous locations around the country, so no matter what part of the continental US we are shipping to, we are usually able to get the product there quickly and with very competitive shipping rates.
After installing the packing media and running tests, the plant manager reported that the town's drinking water supply was among the cleanest in the state.
Related Files
Related Products