The Padeye Vac
A "Padeye" is a recess on the surface of a flight deck that houses the steel hooks that are used to strap down and secure aircraft to the flight deck.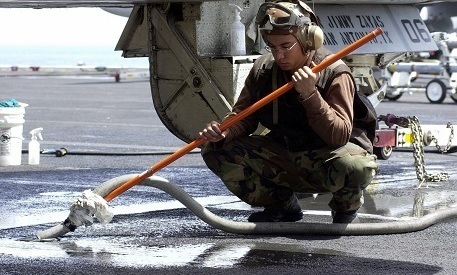 The Problem
We were approached by the US Navy to provide a vacuuming solution for cleaning out flight deck "Padeyes" on Amphibious Class Ships. The vacuum they needed didn't exist at the time, so we customized one of ours to their specification. Unique features like non-bearing wheels and a non-binding water shut-off float were part of the build list. None of the vacuums they had been using so far had been satisfactory so the Navy knew exactly what they wanted.
The Solution
We were able to customize a vacuum to meet all their specifications, and ship 25 of them in a matter of weeks. It had non-bearing wheels, an HD steel hopper tank and frame construction, and no plastic; this ensures that static-electricity build up would not happen like it does in cheaper plastic vacuums. The end result is an intrinsically safe vacuum that is 100% static dissipating and safe to use around aircraft fuel vapors.
The US Navy were very happy with this design and have been a repeat customer. The Padeye Vac is built 100% in the USA from American parts.
Related Products