StatMax Conductive Vacuum Hose
StatMax Grounded Vacuum Hose are perfect for elimination of static build up.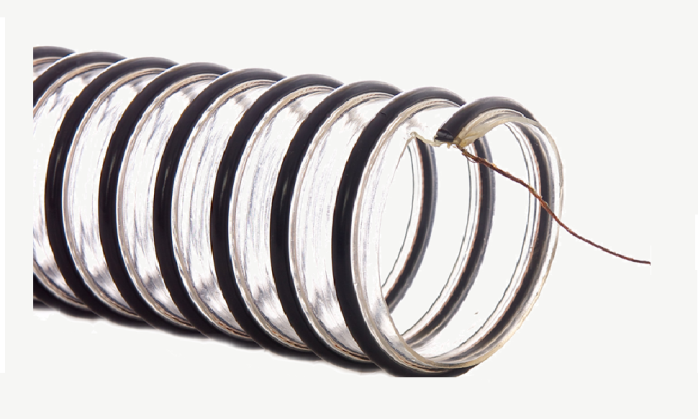 The Problem.
​The Health and Safety Officer for a grain processing company approached us with a pressing issue. The grain processing company manufactures a variety of baked goods and handles large volumes of various grain and sugar dusts. Most organic dusts are explosive, so a safe vacuuming solution needed to be found. They also asked for an FDA approved solution, as they were handling food ingredients.
A powerful vacuum causes particulate to move quickly through a hose. The friction caused by the particulate travelling through the interior of the hose causes a build up of static electricity that can knock a person over. The static shocks had become a hazard for the workers, but there was an even larger danger in the potential for a spark in a dry dusty environment where combustible dusts were present.
The Solution.
We recommended our FDA-approved StatMax Grounded Vacuum Hose. StatMax is a food-safe urethane vacuum hose that contains a mix of proprietary conductive resins. The mix of conductive resins in a vacuum hose is the correct way to dissipate static electricity, as it dissipates it evenly throughout the entire hose. The added embedded copper wire is often a requirement in NFPA Hazardous Zones. StatMax has a surface resistivity level of 108 - 1010 Ohms/Square; that concentration of conductive resin will dissipate static very efficiently. We also recommended our food grade conductive vacuuming tools and hose connectors.
The workers immediately noticed that there was no static build up in the hoses. We supplied conductive swivel cuffs at the tool ends for greater ease of movement in tight spaces. The swivel-cuffs and lightweight grounded urethane hose was an ergonomic and safety success. The plant manager reported improved safety and productivity and has become a repeat customer for static conductive vacuuming accessories.
Related Products