Static Conductive Urethane Hose FDA and Cleanroom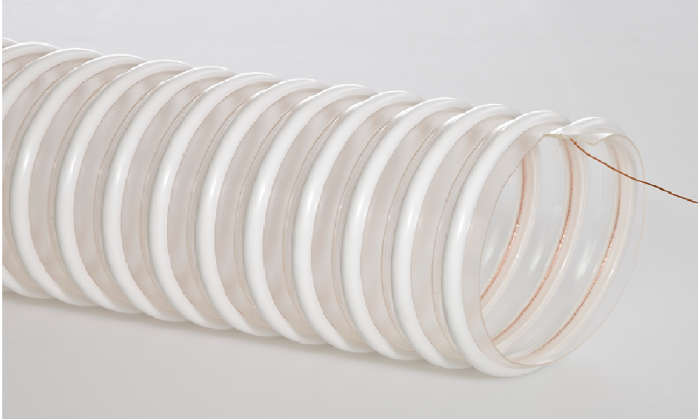 Static Dissipative Urethane Food Grade Hose for vacuuming of food and pharmaceutical ingredients. Excellent abrasion resistance.
Clean Room Hose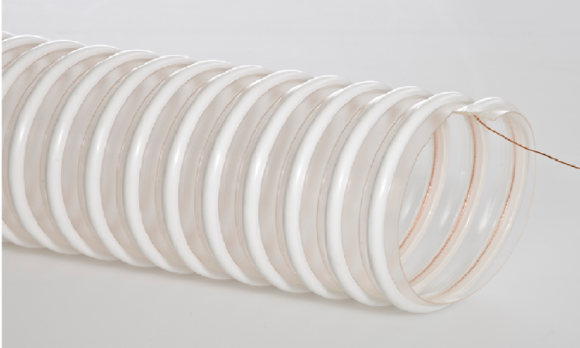 Specially formulated clear static dissipative thermoplastic polyurethane hose reinforced with a rigid white external ABS helix & an embedded copper braided grounding wire.
Our conductive cuffs screw "lefty" onto the hose helix allowing an easy bond between the grounding wire and the metal vacuuming tool. The opposite end of the hose bonds with the vacuum, or whatever you are connecting to. We offer a hand held multimeter so that you can measure the path to ground in Ohms.
Click THIS LINK to see more technical information.
Features:
Extremely flexible with great abrasion resistance vs. heavy walled PVC
Smooth interior assures minimal friction loss, efficient air flow & elimination of material build-up
Enclosed copper braided grounding wire reduces static build-up in material handling applications
Permanent and non-humidity dependent ESD (electrostatic discharge) protection
Ideal for clean room and pharmaceutical applications, powder processing and pneumatic conveying systems
Surface Resistivity Level: 108 - 1010 Ohms/Square
Manufactured with FDA acceptable materials
Wall Thickness = .040"
Static conductive cuffs available
Static Dissipative Food Grade Hose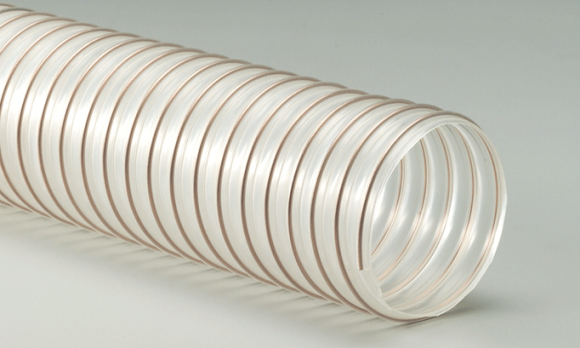 Our Static Dissipative Food Grade Hose is impregnated with proprietary conductive urethane resins during manufacture. These conductive urethane resins measure a surface resistivity level:108 - 1010 Ohms/Square. It is these conductive resins that dissipate static. There is a grounding wire embedded in the hose to provide an additional path to ground.
Market Applications:
Clean Rooms, Dust Collection, Fertilizer Broadcasting, Food Grade, Glass Clinching Granule Transport,Material Handling, Paint Spray Extraction, Plastics Industry, Powder & Bulk, Sand Blasting, Shredders, Silica Dust, Static Control, Ultra Violet Dryers, Woodworking/Furniture Industry.
Features:
Great abrasion resistance & high tear strength
Superior chemical resistance & excellent flexibility
Designed for applications with wide temperature ranges
Ideal for clean rooms and material plastic processing applications
Permanent and non-humidity dependent ESD (electrostatic discharge) protection
Surface Resistivity Level:108 - 1010 Ohms/Square
Clear is manufactured with FDA acceptable materials
Wall Thickness = .030"
Available with factory-installed 2" clear soft cuffs
Black available
Related Files