Die Cast Series Units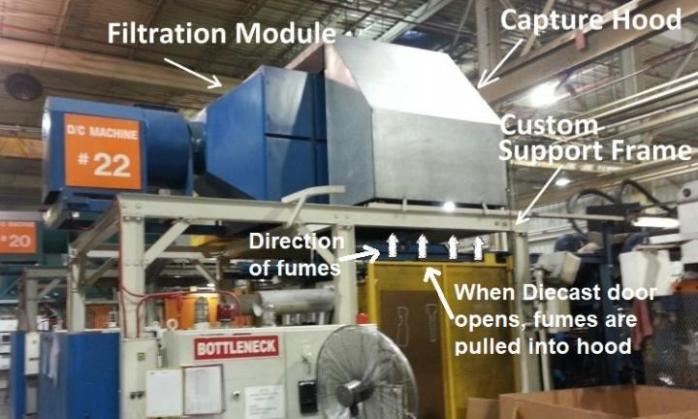 Our Die Cast Filtration systems are designed to provide efficient, cost effective control of water-soluble die lubricants used in die casting machines.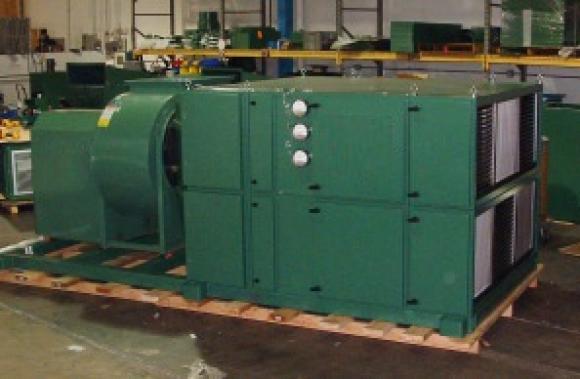 ​Our Die Cast Systems are designed to provide cost effective filtration of mold lube fune generated by die cast machines. These Die Cast collectors are designed for heavy-duty production use. Each unit provides six stages of mechanical filtration returning clean air into the plant.
The Die Cast system consists of three main filter cabinet assemblies. The first cabinet houses three banks of cleanable Chevron impinger prefilters mounted in series. The second cabinet contains a cleanable metal mesh filter followed by a pleated multi-vee intermediate filter, and the fourth filter stage multi-pocket ASHRAE fiberglass vee-bag-filter. The third and final cabinet houses a cleanable metal mesh filter and a sixth-stage HEPA filter rated 99.97% efficient at 0.3 microns. Following the sixth stages of filters is a blower and motor ranging from 3 HP to 25 HP with the blowers for the 12,000 series and higher being remote.
An option is to mount the filter cabinets and blowers on a supporting frame with casters, which is mounted above the die cast machine with a canopy hood over the die area. The Die Cast system can move on the casters to allow the dies to be changed from the machine.
Click HERE to see a case Study
Specifications:


Features:
Motors available from 3 to 25HP for a wide range of applications
Adjustable RPM, belt driven blowers for varying airflow
Two Magnehelic gauges for quick referencing of filter loading, one for the Vee-Bag, one for the HEPA
Fourth stage filter element provides 95% efficiency per ASHRAE 52.1 & 52.2
Bag support rods provide positive filter support and spacing for optimum filter life and efficiency
Industrial powder coat Kelley Green finish
Options:
Movable Heavy-Duty Frame with Vee-Grooved Casters
Silencer
Custom Hood Designs to meet your unit specifications
Call us today at toll-free at (800) 635 0298 or email us at sales@controlledairdesign.com to discuss your unique application.
Die Cast Series Operation Photo