Extraction Arms for Dust, Smoke and Mist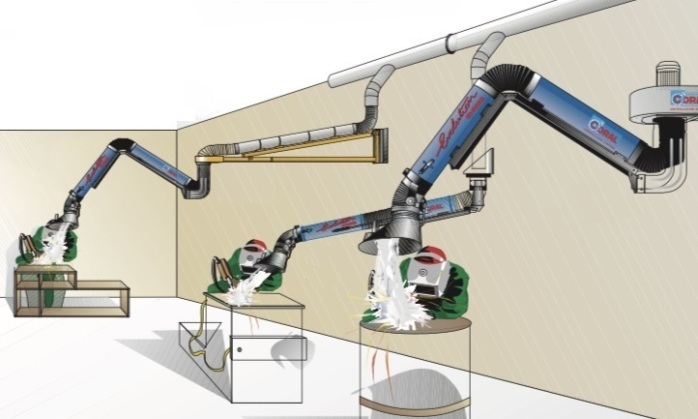 Controlled Air Design has the largest range of capture arms in the industry. We can get most sizes of arms out to you within a few days. Everything from lab arms to stainless ATEX arms. Call us today!
Jump To:
Coral Wall-Mount Evolution Arms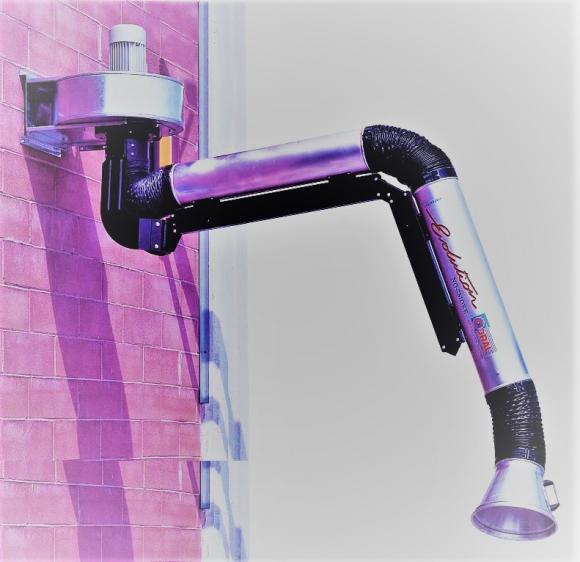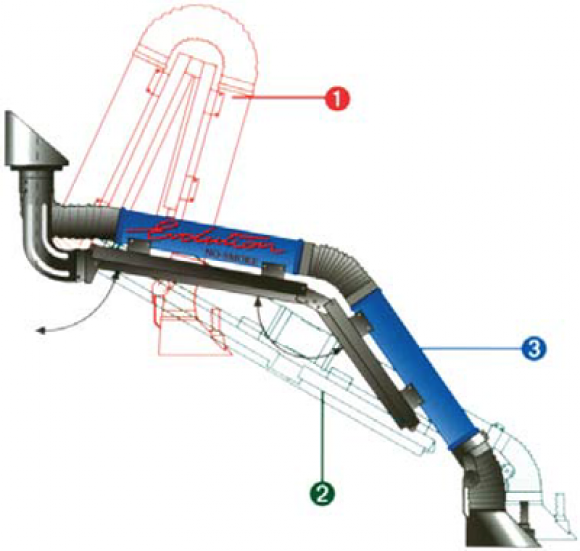 360º Rotation
The Evolution arm base is equipped with a custom rotary bearing which enables a 360º rotation to optimize usability. This patented external joint design not only offers easier operator adjustability of the arm but also results in a lower static resistance to facilitate improved contaminant capture and removal. This improved performance results in lower operating costs, less operating noise, and improved air quality for the operator at the workstation. Overall, this unique design enables the arm to out-perform other arms available on the market.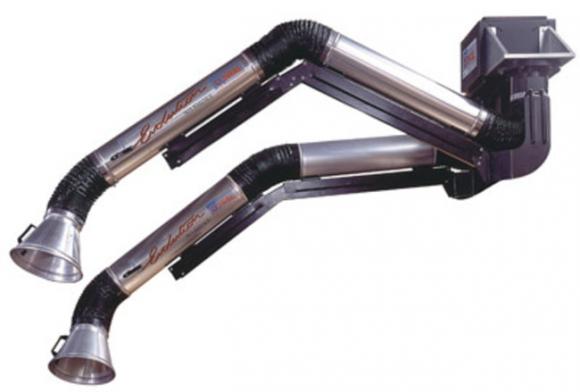 Our arms can be installed on a beam or a wall. They can also be installed from the ceiling. We have a mounting bracket for almost every application. The adjustable frictional joints and springs provide easy and smooth movement of the arm.
The suction hood can be equipped with a halogen spotlight to light up the work area.
We have shortest lead times in the industry on Fume Arms. We also offer technical support on all major brands. Call (800) 635 0298 for an immediate quote with shipping costs and availability, or email us at sales@controlledairdesign.com
Fully contained welding booths that have their own power and filtration are no match for capture arms connected to a central collector. Welding booths have flat panel filters that work well for HVAC, but they don't have the same efficiency as a proper cartridge filter that is designed for toxic fumes and HEPA for hex-chrome from welding stainless. Our cartridge systems filter down to .3 micron @ 99.97% eff and our HEPA filtration takes that down to .3 micron at 99.97% eff. Call us today for more information and a free no obligation quote.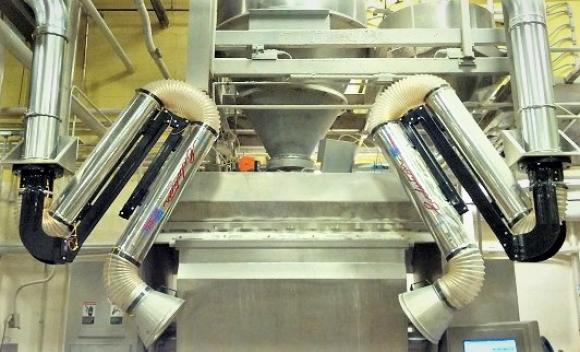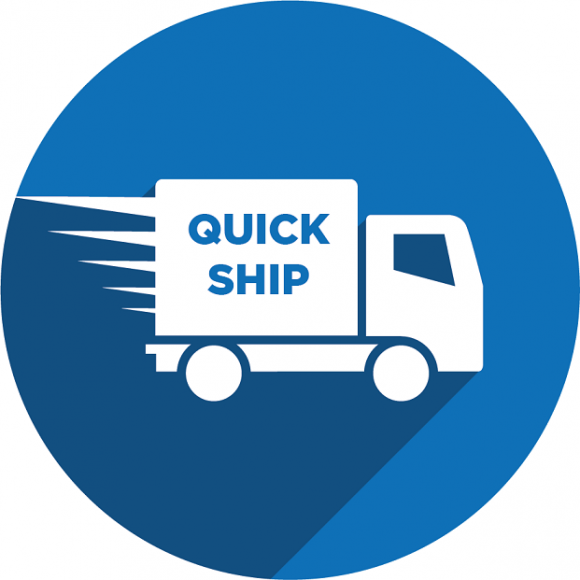 Our 24/7/365 tech-support (call or text) hotline is (919) 607-6765
Our Extraction Arms are in stock for immediate shipment!
Largest selection of fume arms in the industry!
No-Smoke Fan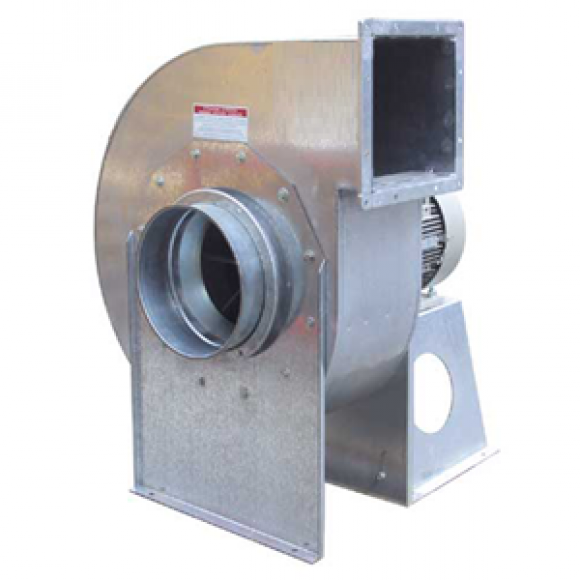 The 1.5HP and 3.0 HP No-Smoke Fans work hand in hand with the wall-mount Evolution Arms to evacuate fugitive dust, smoke, and mist from industrial processes.
The design of the fan scroll means quiet operation. The easy to mount brackets and light-weight Evolution arms install very easily, 110V single phase and 230/460v 3 phase options available. Call us today for more information.
Bench-Mount Extraction Arms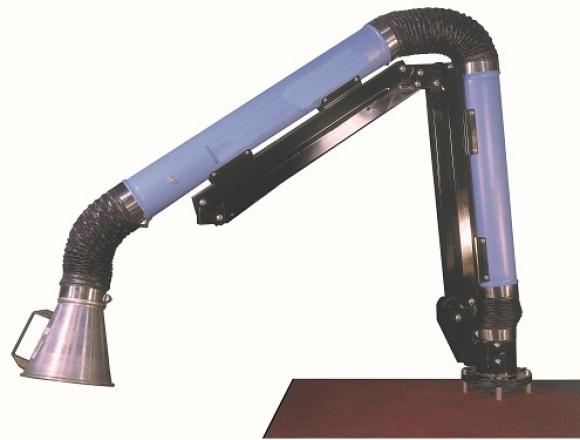 ​In addition to our Wall-Mount Arms, we also have a full line of 4" 6" 7" 8" and 10" Bench-Mount Arms, with reach' up to 14' - Our arms are available in stainless, aluminum, and ATEX designs. Our Bench-Mount Arms have common bolt hole patterns that can work with metric or imperial threads. We also carry replacement hoods, flex joints, magnetic hoods, for all major brands of industrial fume extraction arms.
We have Bolt-Hole Patterns for all major brands of portable fume collectors.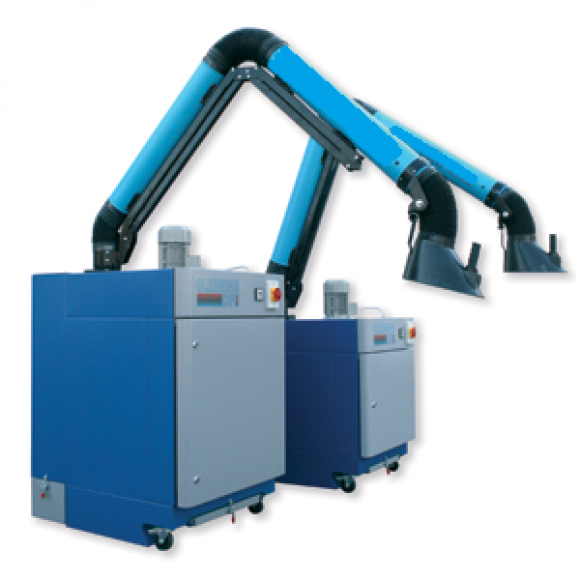 Features:
Available in enamel, aluminum, and stainless steel construction
Wall or Portable Mount Models
Patented External Joint
Rotary Bearing 360º Rotation
Optional High-Efficiency Fan for External Exhaust
Inline Airflow Damper
Optional Light Kit
Extension Booms to reach further distances
Mini Extraction Arms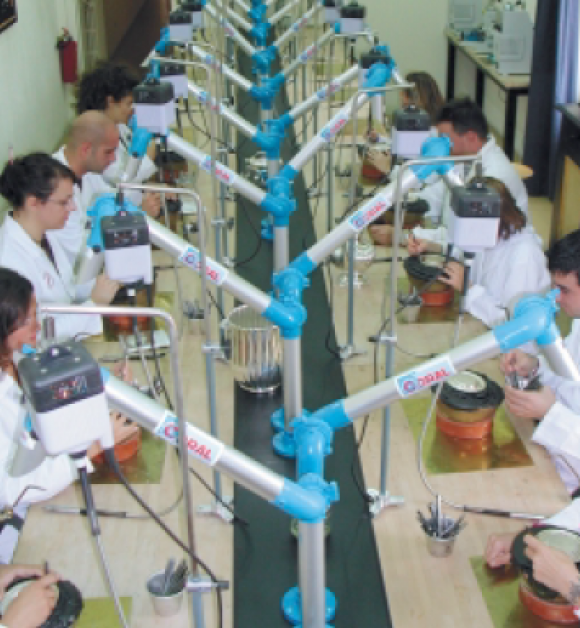 The Mini self-supporting articulated arm represents the best technical solution and has the necessary versatility for extracting fumes emitted by soft soldering, laboratory vapors, electronics in general, small- scale craft work gold smithery, dental laboratories, research laboratories, analytical laboratories, etc. The Mini-Extraction arm is available with two articulated joints fitted with fast-tightening screws for correct positioning at the workstation, according to the specific type of use required. The Mini self-supporting arm can be fixed to the ceiling or the workbench.
Operating Principle: The polluted air is sucked in by one of the seven types of hoods, inter- changeable according to the type of use with ideal positioning possibilities as it can rotate 360° about its axis, passes through the anodized aluminum pipe with articulated joints made of a resistant plastic material, to the filter unit or the centralized suction system.
Coral ATEX Explosion Proof Arms
Compatible with all ducting systems. Our ATEX Arms are fully compliant with NFPA 652 for explosive dusts and gases. Grounded and food-grade arms also available.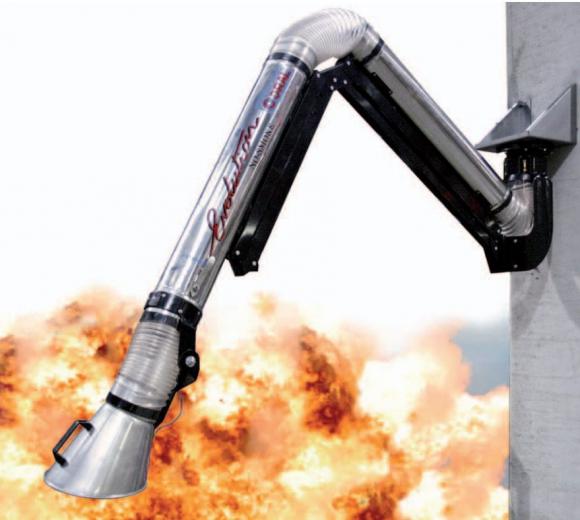 Coral No-Smoke ATEX Fume Extraction Arms are designed to convey locally produced pollutants towards specific filtering and deodorizing systems in potentially explosive atmospheres. Click HERE to see full specifications for ATEX Arms
The use of conductive materials guarantee a proper ground connection. No-Smoke ATEX Arm suitable to be applied in zone 21, 1 and with dust classified St3. Our No-Smoke ATEX Arms are also USDA Food Grade.
We offer quantity discounts on all our fume extraction arms. Call (800) 635 0298 for details!
Telescopic Arms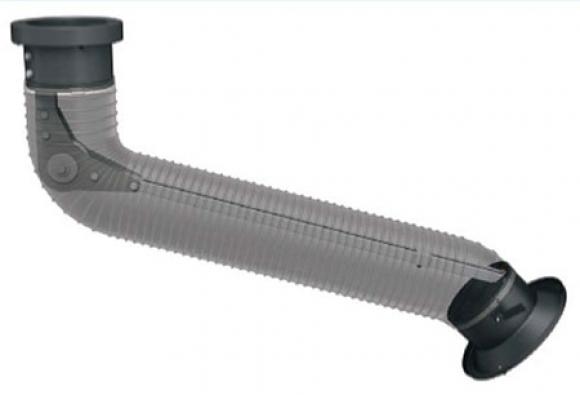 Our Telescopic extraction arms are designed for effective extraction of welding fumes and gas contamination, as well as other small dust particles – directly at the point of emission before the fumes can enter the breathing zones of people nearby. The Telescopic extraction arms can be applied in any areas where space is tight. Usually, this is the situation in welding schools, where the welding booths can be very small. The extraction arm can work independently, with its own extraction fan, or in a group of local exhausts connected to the main collecting ductwork (with a central dust collector or fan). Click HERE for full specifications on Telescopic Arms
Flexduct for arm flex-joint.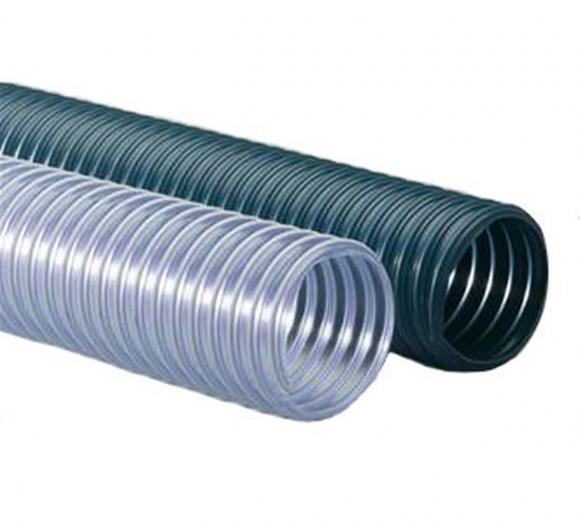 Our FR Flexduct can be used in all kinds of industrial and commercial fume and gas exhaust applications. It also has the perfect amount of resistance to be used as the flex-joint that connects the metal pipe sections on most brands of extraction arms. We have single-ply polyester flame retardent, or conductive urethane that is also USDA Food Grade.
Used extensively in shipyards in conjunction with a magnetic hood for welding applications. This is an ideal set up for scaffolds and hard to reach places.
Click HERE to see our Welding Flex Duct
Related Files