Ambient Dust Collectors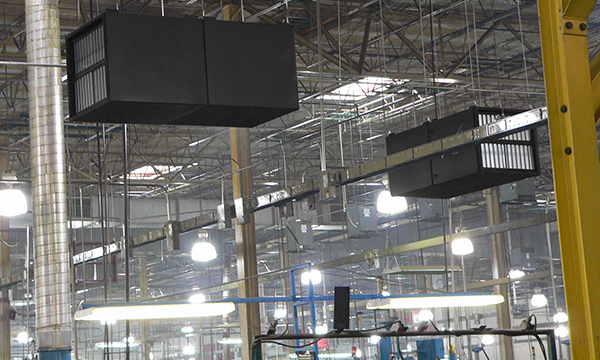 A modular ambient dust collection system uses multiple, smaller collectors instead of one large one.
Jump To:
With low equipment, operational and maintenance costs, Ceiling-mounted Ambient industrial air cleaners are an economical way to improve your overall air quality From fine dust to coarse particulate, we can help make your plant a cleaner and safer work environment where workers can breathe easy. We also have portable Ambient units on casters for greater flexibility.
AER POD Ambient Portable
The AER POD consists of a base which supports filter tracks, above the filter tracks is a blower cabinet. The airflow is through all four sides of the unit.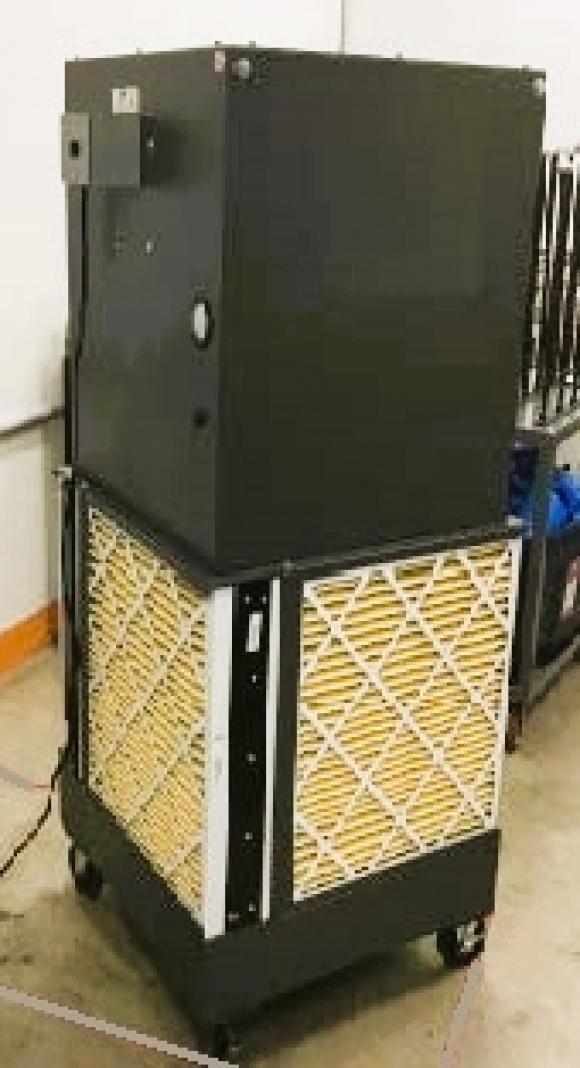 The AER POD Portable is built with a non-sparking blower and TEFC Motor making it compliant with NFPA Standards for most ST1 explosive-dust applications. Qualifying this for NFPA 652 Compliance for Explosive ST1 Dust in a ORDLOC area, involves approval from your AHJ or internal Health & Safety Officer.
Typically used for control of low to moderate concentrations of contaminants, the AER PODs can be used for grinding, sanding, polishing, dry buffing, and more.
It's 4-sided intake design allows you to pull in dust from all 4 sides. The casters allow you to easily roll the unit to the area where the most dust is being generated.
Click THIS-LINK for full specifications
Options:
Casters with Outriggers
Louvered Side Exhaust Plenum
A variety of filter options such as MERV 11, Polyester, MERV 14, HEPA, and Carbon
The POD can neutralize nasty paint odors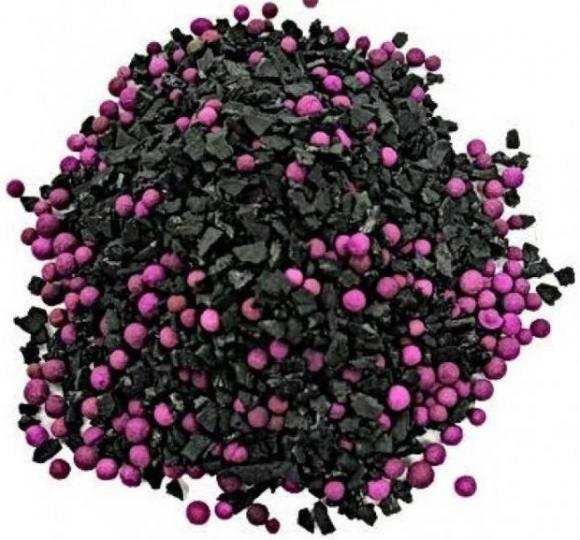 The 4-sided intake can take a refillable cell that is filled with 28LBS of 4mm carbon pellets to neutralize odors. To fight odors properly, the AER POD can hold up to twelve of these cells spread out over 3 tiers. Activated absorption media such as carbon, is very effective. In some applications we have eliminated odors almost entirely with this approach.
Send us the SDS sheet for the solvent that is creating the odor. We will then match it to a custom blend of absorption media that is specific to your unique application. Our absorption media is sold by the bag and can ship ground or truck.
For more information on our pelletized absorption medias, click on THIS-LINK
For NFPA HAZLOC areas, we have other units that are fully explosion-proof and 3rd party certified. Click HERE for more information.
Ambient Air 2000C
The 2000C comes with eye-bolts for easy overhead mounting.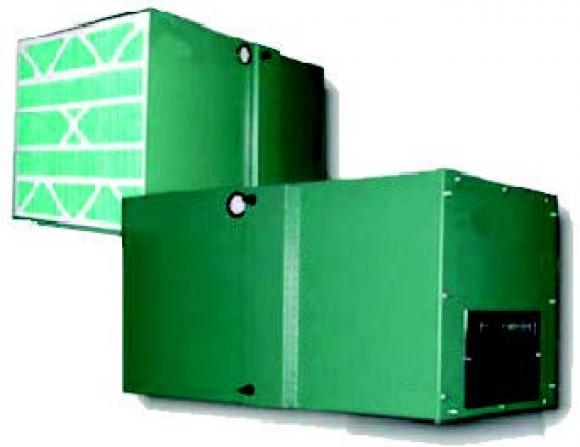 Designed to filter Ambient Dust
Good for warehouses and manufacturing shops
2000 CFM Airflow
48 Long x 24x 24
Direct Drive Blower, 3/4HP Open Motor
115V 60HZ Single Phase/ Optional Voltage Available
Heavy Duty 16-Gauge Welded Steel Cabinet
Power Cord with Top-Mounted 2-Speed Rocker Switch for
Easy Installation
Tool-less and Quick Filter Changeout
Internal Bag Support Rod for Optimum Filter Surface Area
Two-Stage Filtration
24 x 24 High-Capacity Pleated Filter
24 x 24 x 22 High Loft 95% Fiberglass Media Bag Filter with 84 Square Feet of Media
Industrial Powder Coat Kelly Green Finish
67 dba at Exhaust, 60 dba at inlet
Adjustable Outlet Louvers
Minihelic Gauge
Mounting Eyebolts for Ceiling or Wall Mount
Specifications for the Ambient Air 2000C are HERE
M67 Commercial Air Cleaner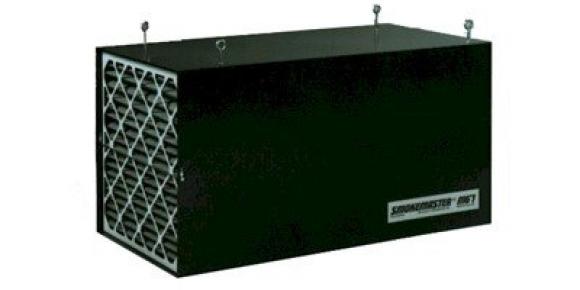 The Smokemaster M67 is a self-contained multi-stage media air cleaning system / industrial air filtration system designed for general background cleaning of dust, smoke, soot or other airborne particulate. The Smokemaster M67 unit is a good choice for light duty applications such as sanding, buffing, welding or automotive refinishing at a rate of up to 1980 cfm. Add a Smokemaster to your workplace today.
Features:
Wrap-around prefilter.
2" carbon filter for odor control.
Front end load mechanical filter system for easy filter access.
Adjustable postfilter track for flexibility in postfilter selection.
10-foot power cord with molded plug.
Quality engineering and workmanship backed by a 3-year parts warranty (see owners manual for warranty statement).
DIMENSIONS: 24"H x 24"W x 47"L
WEIGHT: 118.5 lbs. Installed 160 lbs.
CABINET: 18-gauge steel cabinet with black enamel paint finish.
Smokemaster C-12 Commercial Air Cleaner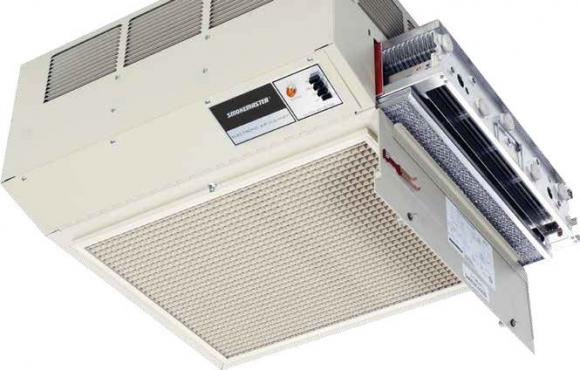 The Smokemaster C-12 is an ideal electronic air cleaner for mounting to solid ceilings for capture of both particulate and gaseous contaminants, particularly from cigarette smoke. This is one of the best air cleaners for the removal of odors and tobacco smoke, as well as pollen, dust, vapors and many other irritants. The Smokemaster C-12 electronic air cleaner uses high efficiency electrostatic cells which eliminates the need to purchase additional air filters. Designed with the user in mind, the 3 speed fan quietly and efficiently cleans an area using the Coanda airflow pattern. Order your Smokemaster C-12 today.
And our equipment is built with high grade components like steel cabinets instead of plastic cabinets and industrial cells instead of residential cells. These are the same components from our industrial product line used for welding smoke and CNC machining.
Features and Specifications
Discharge Louvres(4 sides)
Color Options Ivory (shown) Black
Removable Prefilters and Grille Washable aluminum mesh prefilters catch larger particles before entering the electronic cells.
System Indicator Lamp Monitors the electrical output automatically, indicating any system malfunction.
Three-Speed Control
Parts List
41009 – Prefilter, 2 required, 11 29/32″ x 19 29/32″ x 1/2″
41067 – Heavy Duty Prefilter, 2 required C12
38004 – Ionizing Wires, Commercial, (sold in increments of 5)
07316 – Replacement Electronic Collector Cell, 20″ x 4 1/2″ x 12 1/2″ (38001)
07071 – Power Supply Replacement Kit (120V) C12
07089 – Power Supply Replacement Kit (220V/50HZ) C12
05299 – Motor Replacement Kit (120V) X-11Q / C-12
05360 – Motor Replacement Kit (220V) X-11Q / C-12
10110 – 3-Speed Control Switch
10106 – Interlock Switch
46070 – Test Button
37009 – Fan Blade
10097 – Indicator Light
20025 – Intake Grille, ivory
20026 – Intake Grille, black
42078 – Power Cord
46113 – Contact Board Assembly (Cabinet) (Units sold prior 7/12)
46172 – Contact Board Assembly – Cell (Units sold prior to July 2012)
41273 – Ozone Removal Filter, C-12 (2 needed per unit)
Related Files