Ceiling-Mount Ambient Dust Collectors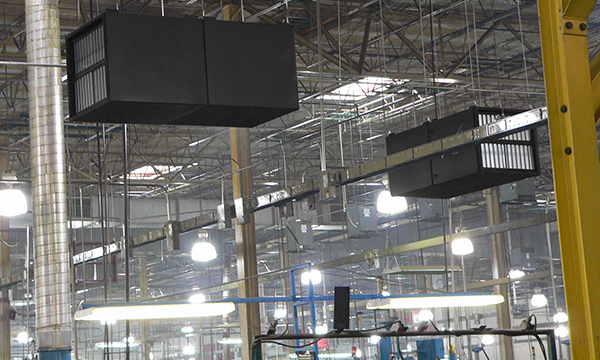 A modular ambient dust collection system uses multiple, smaller collectors instead of one large one.
With low equipment, operational and maintenance costs, Ceiling-mounted Ambient industrial air cleaners are an economical way to improve your overall air quality From fine dust to coarse particulate, we can help make your plant a cleaner and safer work environment where workers can breathe easy.
A modular ambient system provides the flexibility that many metal manufacturers are looking for. A large central ambient air system is more efficient and requires less maintenance than a modular system, but the large system simply may be too expensive for some companies or too much for a manufacturer with a lot of production variation in its operation.
M-25 Ceiling Mount 2500 CFM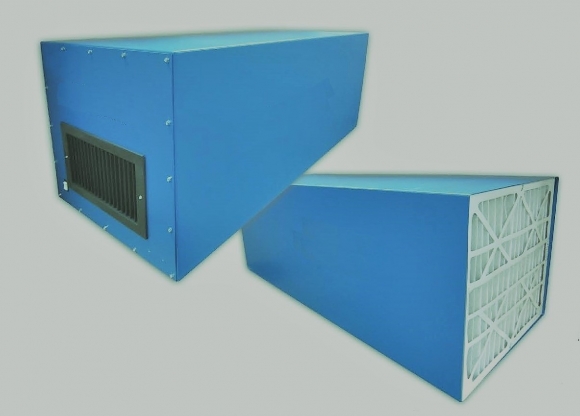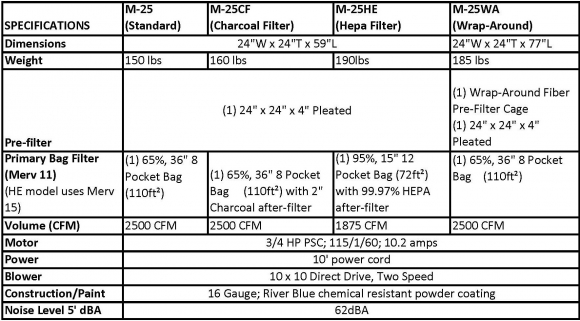 M-30 Ceiling Mount 3000 CFM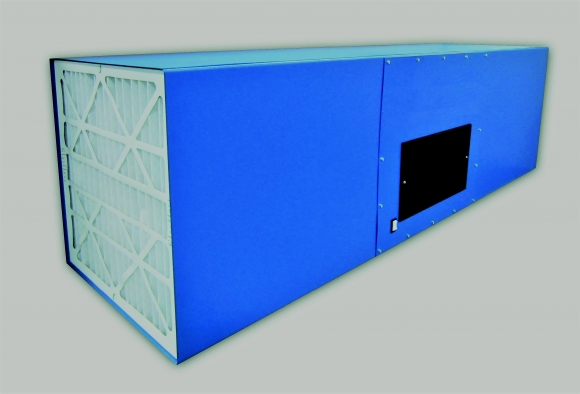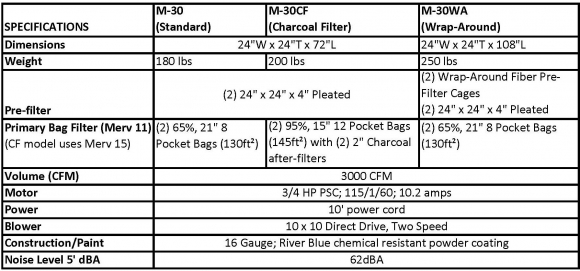 Options for M-25 and M-30
• 95% 8 Pocket Bag Filter (Merv 15)
• "L" Mounting Brackets (set of 2)
• Aluminum Mesh Pre-filter (Replaces Pleated)
• Strut Channel Hanging Brackets
• Silencer w/ 4-way louver
• Silencer w/non-directional grill
• Eyebolts (set of 4 - installed) (reduces sound by 6-8
decibels) (reduces sound by 10-12 decibels)
• Chain, Q-links, & Eyebolts Kit
• Pressure Gauge/Filter Change Indicator
• Gas Phase After-filter
• 208-230VAC or 277VAC Single Phase ¾ motors
M67 Commercial Air Cleaner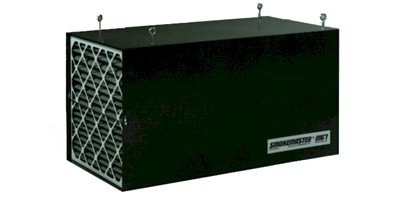 The Smokemaster M67 is a self-contained multi-stage media air cleaning system / industrial air filtration system designed for general background cleaning of dust, smoke, soot or other airborne particulate. The Smokemaster M67 unit is a good choice for light duty applications such as sanding, buffing, welding or automotive refinishing at a rate of up to 1980 cfm. Add a Smokemaster to your workplace today.
Features:
Wrap-around prefilter.
2" carbon filter for odor control.
Front end load mechanical filter system for easy filter access.
Adjustable postfilter track for flexibility in postfilter selection.
10-foot power cord with molded plug.
Quality engineering and workmanship backed by a 3-year parts warranty (see owners manual for warranty statement).
DIMENSIONS: 24"H x 24"W x 47"L
WEIGHT: 118.5 lbs. Installed 160 lbs.
CABINET: 18-gauge steel cabinet with black enamel paint finish.
Smokemaster C-12 Commercial Air Cleaner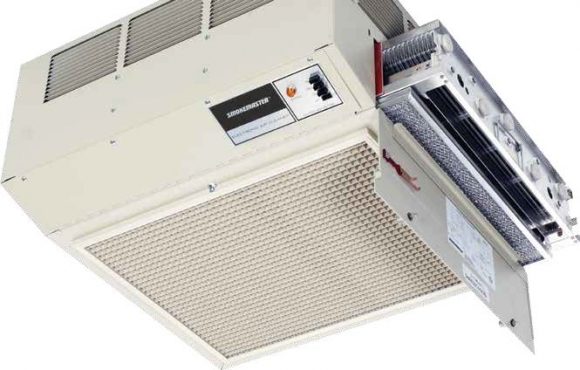 The Smokemaster C-12 is an ideal electronic air cleaner for mounting to solid ceilings for capture of both particulate and gaseous contaminants, particularly from cigarette smoke. This is one of the best air cleaners for the removal of odors and tobacco smoke, as well as pollen, dust, vapors and many other irritants. The Smokemaster C-12 electronic air cleaner uses high efficiency electrostatic cells which eliminates the need to purchase additional air filters. Designed with the user in mind, the 3 speed fan quietly and efficiently cleans an area using the Coanda airflow pattern. Order your Smokemaster C-12 today.
And our equipment is built with high grade components like steel cabinets instead of plastic cabinets and industrial cells instead of residential cells. These are the same components from our industrial product line used for welding smoke and CNC machining.
Features and Specifications
Discharge Louvres(4 sides)
Color Options Ivory (shown) Black
Removable Prefilters and Grille Washable aluminum mesh prefilters catch larger particles before entering the electronic cells.
System Indicator Lamp Monitors the electrical output automatically, indicating any system malfunction.
Three-Speed Control
Parts List
41009 – Prefilter, 2 required, 11 29/32″ x 19 29/32″ x 1/2″
41067 – Heavy Duty Prefilter, 2 required C12
38004 – Ionizing Wires, Commercial, (sold in increments of 5)
07316 – Replacement Electronic Collector Cell, 20″ x 4 1/2″ x 12 1/2″ (38001)
07071 – Power Supply Replacement Kit (120V) C12
07089 – Power Supply Replacement Kit (220V/50HZ) C12
05299 – Motor Replacement Kit (120V) X-11Q / C-12
05360 – Motor Replacement Kit (220V) X-11Q / C-12
10110 – 3-Speed Control Switch
10106 – Interlock Switch
46070 – Test Button
37009 – Fan Blade
10097 – Indicator Light
20025 – Intake Grille, ivory
20026 – Intake Grille, black
42078 – Power Cord
46113 – Contact Board Assembly (Cabinet) (Units sold prior 7/12)
46172 – Contact Board Assembly – Cell (Units sold prior to July 2012)
41273 – Ozone Removal Filter, C-12 (2 needed per unit)
Related Files
Related Products