HEPA Negative Air Scrubbers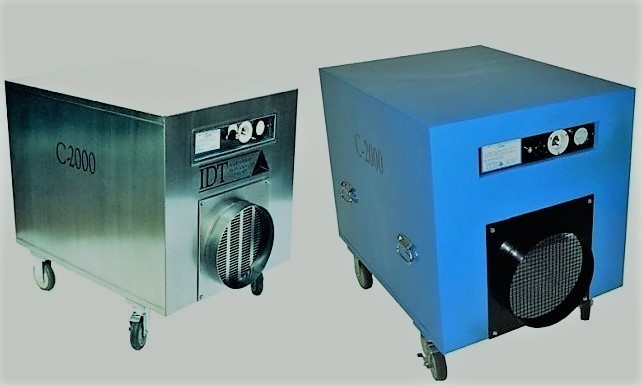 Stainless Steel Construction.
​The C-2000 was developed to handle the rigorous demands of micro decontamination operations, where reliable and high volume air filtration is essential to safety and productivity. This portable 2-speed filtration unit features 2000 and 1200 CFM settings.
C-2000 HEPA Negative Air Unit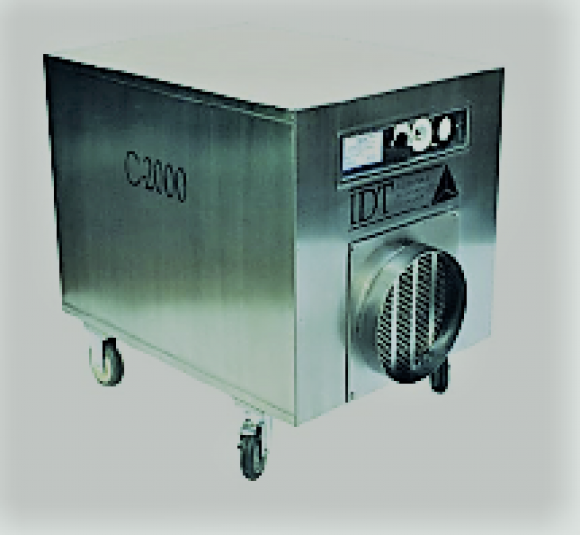 ​In hospital construction and demolition, the C-2000 is very often written into the building specs for its all-stainless construction. Either version of the C-2000 Portable HEPA units can be ordered with the Negative Air Vent Kit. This kit facilitates the setting up of a negative-air space for superior dust containment.
The C-2000 is compact and portable and is easily adapted for permanent installation. Available with a variety of filter options. Stainless Steel or Powder-coat finish. Can be set up for negative air space Used in Triage rooms, and can be used in conjunction with UV
Specifications:
HEPA Efficiency .3 microns @99.97%
Pre-Filter: 25" x 25"
HEPA Filter: 24"x24"x11½"
2-Speed
115/1/60
15 amps
Dimensions: 35" H x 26" W x 33" L
Housing: Painted Steel or Stainless Steel
Weight: 165 lbs.
Shipping weight: 217 lbs.
Tri-KleenTM 500UV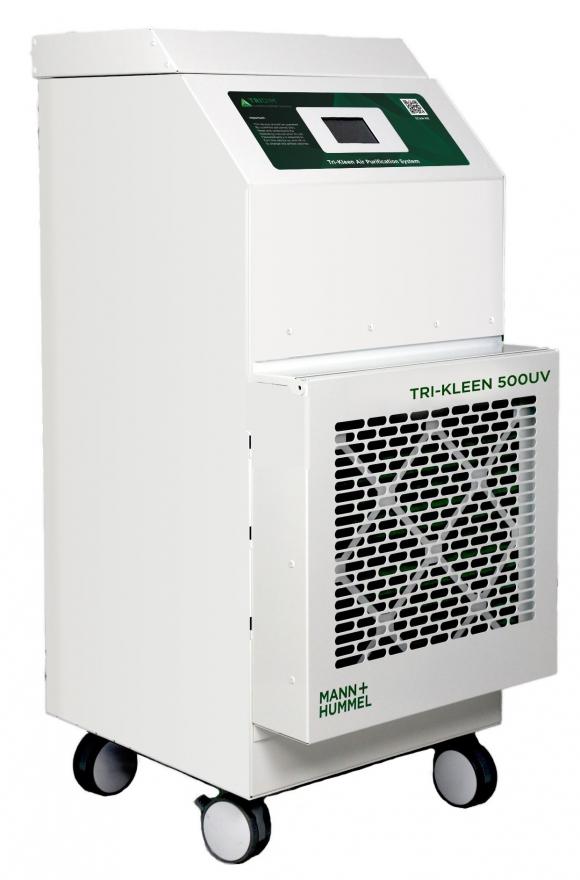 The Tri-KleenTM 500UV HEPA Air Filtration Unit is a portable Contamination Control Unit that is used primarily in hospitals and labs. It is also used in emergency situations, such as ones that require decontamination tents or mobile triage units.
During the H1N1 outbreak, and during recent anthrax powder scares, our portable HEPA and UV units were used extensively all across the USA. The Tri-Kleen HEPA UV is an excellent choice for air scrubbing and contamination control in offices and poorly ventilated spaces.
Features:
Four speed settings, from 90 CFM to 500 CFM
Quiet (52 dBA - 59 dBA)
Filter loading indicator with audible alarm
Smooth-rolling swivel casters with two front brakes
LCD touch screen controls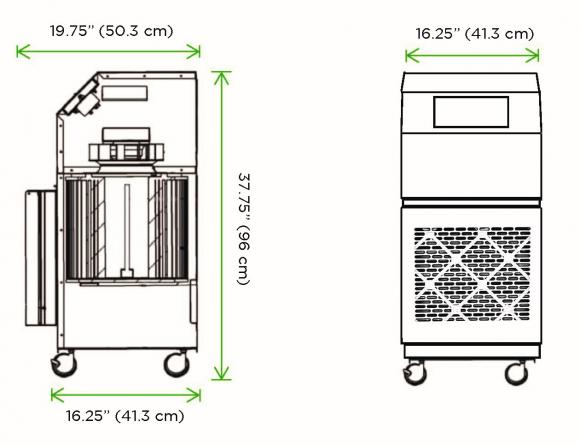 Used in Healthcare Facilities and Labs.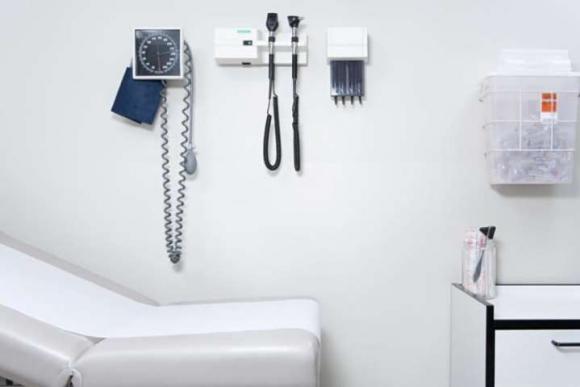 Ideal for use in a variety of settings — including hospital isolation, emergency rooms, Bronchoscopy, and autopsy rooms, as well as nursing homes, rehab centers, correctional facilities and laboratories — this compact stand-alone unit provides efficient, flexible air filtration and purification. The Tri-Kleen is a complete system of defense against airborne pathogens.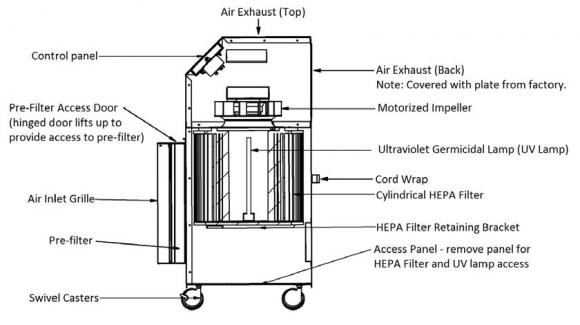 Tri-Kleen 500UV Specifications: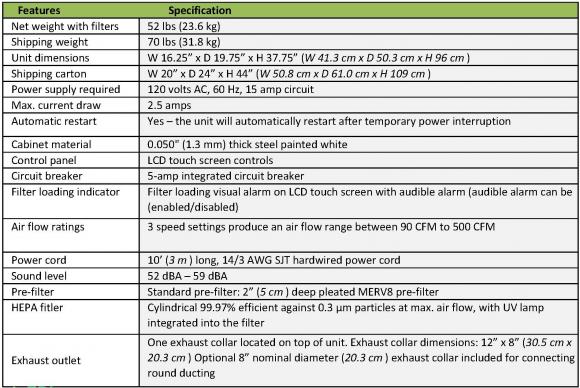 HEPA Scrubbers for Construction
Polyaire 600 and 2000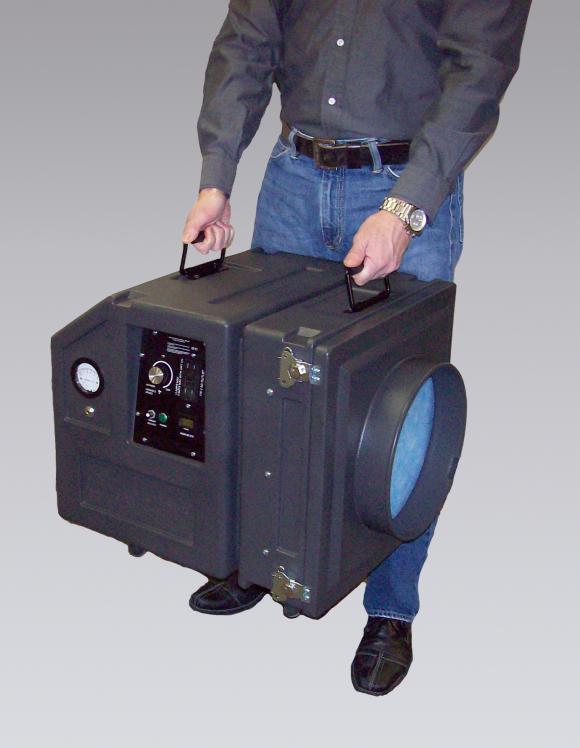 The Polyaire HEPA Scrubber can be used as a negative air system by adding the optional vent kit. It can also operate as a "plug and play" stand alone unit. The Polyaire is ideal in hospitals and offices for controlling sheet rock dust and demolition dust. A portable, lightweight polyethylene air scrubber that is dent and corrosion resistant, it is designed to take a beating. This durable high performance unit features a 2-speed blower for controlled air flow, 3-stage filtration with 99.97%@ 0.3 micron HEPA filter, filter monitoring gauge, an hour meter, a 12" exhaust hose flange, a stack-able nesting feature for easy transporting and storage, locking casters and side carrying handles. The Polyaire is especially suited for dust contaminants and hospital construction.
Features and Benefits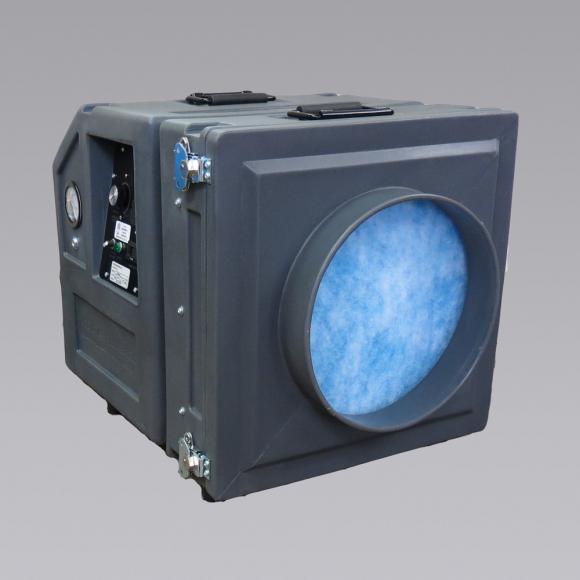 99.97% HEPA Filter
3-Stage Filtration
2 Speed Blower
2000 CFM (P2000)
600 CFM (P600)
12" exhaust hose flange
Filter Monitoring Gauge
Hour meter
38" x 27" x 32 1/2" (P2000)
26" x 18" x 18 3/4" (P600)
120 lbs (P2000)
50 lbs (P600)
115v / 10 amps
UA2005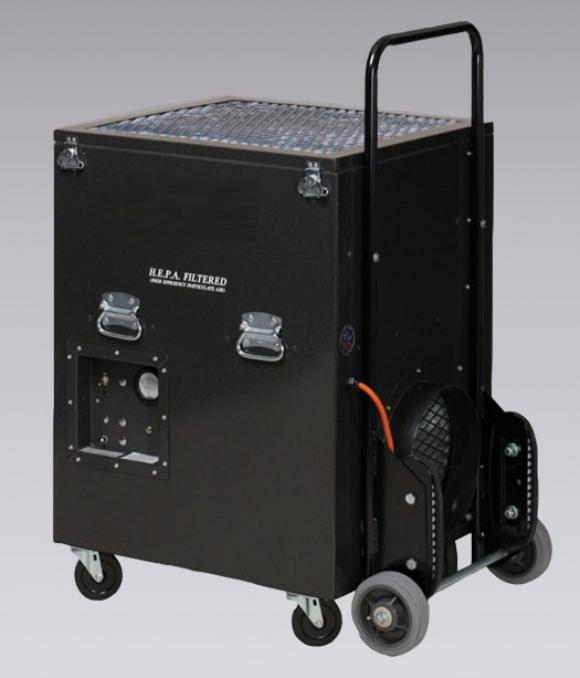 The UA2005 is extremely powerful yet compact and versatile. This unit, with its narrow design, 10" rear stair climbing wheels, front casters and handle assembly, makes maneuvering it a simple one-man operation. The UA2005 features a 2 speed blower for controlled air flow, 99.97% HEPA @ 0.3 microns, 12" exhaust hose flange, filter monitoring gauge, hour meter and an aluminum housing with fully welded seams and powder coat paint finish.
Click Here To See a Case Study on a food production facility that closed due to COVID-19. By using our Air Scrubbers they were able to reopen.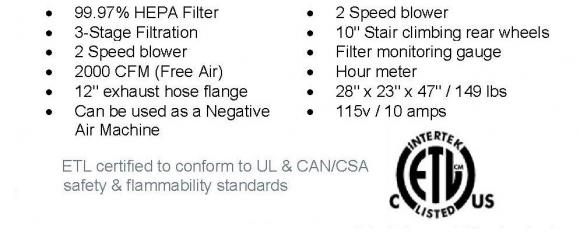 Related Files
Related Products