Compact Backdraft Collectors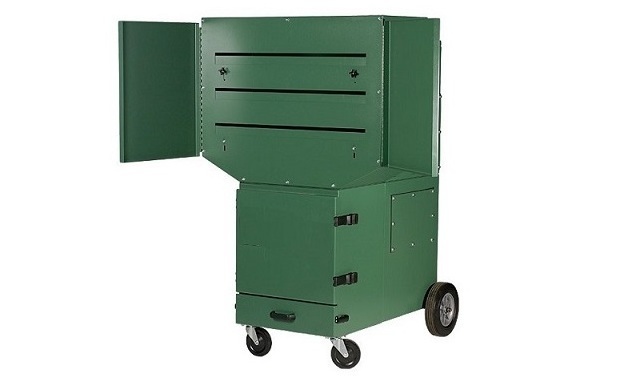 A completely self-contained Backdraft Collector.
This is a completely self-contained dust collector with very impressive suction. The filter is cleaned by means of an internal filter pulse mechanism, which uses a small supply of compressed air to 'back wash' the filter – identical in operation to conventional dust collectors. Our Backdraft fume and dust collectors are engineered for effective economical control of dry dusts, fume and smoke generated from sanding, polishing, buffing, grinding and other processes. Ideal for light to moderate concentrations of dry contaminants, fume, vapors, smoke and particulate are drawn down and back - away from the operator's breathing zone. These light and portable units are designed to go wherever you need them, making compliance with OSHA laws for dusts like silica simple.
Backdraft Specifications:
| SPCBD1000 | SPCBD2000 |
| --- | --- |
| 1400 Nominal CFM @ 6" H2O | 2000 Nominal CFM @ 6" H2O |
| 1.5 HP 115/1/60 TEFC Motor | 3 HP 230-460/3/60 TEFC Motor |
| 10 cfm @ 90 psi (3/8 compressed air line for filtercleaning). | 10 cfm @ 90 psi (3/8 compressed air line for filtercleaning). |
| Direct Drive Backward inclined non overloading fan | Direct Drive Backward inclined non overloading fan |
| 14- & 16-gauge Heavy Duty Steel Construction | 14- & 16-gauge Heavy Duty Steel Construction |
| Manual push-button reverse pulse cleaning system | Manual push-button reverse pulse cleaning system |
| 177 sq. ft. Spunbond FR Filter | 295 sq. ft. Spunbond FR Filter |
| @ .5 microns ( HEPA like efficiency) | @ .5 microns ( HEPA like efficiency) |
| Options for HEPA and Carbon Modules | Options for HEPA and Carbon Modules |
| Internal baffle protecting cartridge filter | Internal baffle protecting cartridge filter |
| Easy tool less filter change out | Easy tool less filter change out |
| 8 ft power cord and switch | 8 ft power cord and switch |
| 10 inch diameter rear casters | 10 inch diameter rear casters |
| 5 inch diameter swivel casters | 5 inch diameter swivel casters |
| Swing open for larger pieces | Swing open for larger pieces |
| Minihelic gauge | Minihelic gauge |
| Dust Collection Drawer 1 cu ft | Dust Collection Drawer 1 cu ft |
| Powder Coated Finish | Powder Coated Finish |
| 74 dBa | 74 dBa |
| 36" Wide Backdraft Hood With Adjustable Slots | 36" Wide Backdraft Hood With Adjustable Slots |
| Hinged Doors | Hinged Doors |
Related Files
Related Products