PDB Fume Booth Custom Series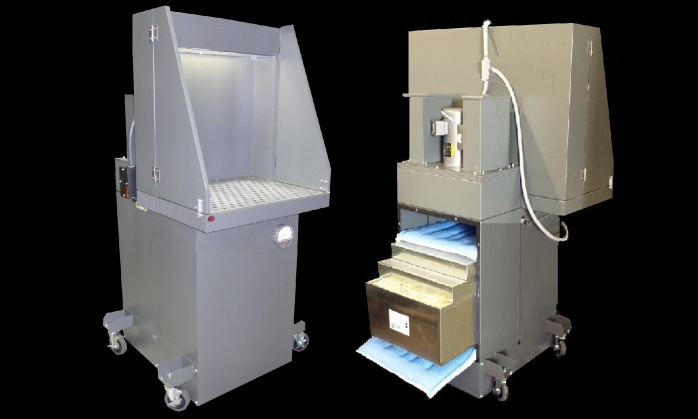 The Sticky Fume, VOC and Paint Fume Collector can filter solvent fumes and sticky plastic smoke. It's multiple activated granular carbon cells can also absorb heavy odors.
Available in several inlet configurations: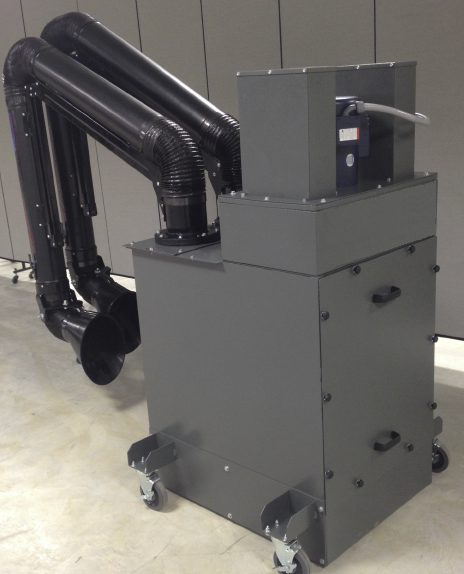 30-inch wide Downdraft Booth
48-inch wide Downdraft Booth
Backdraft Collector
Single or Dual Articulating Arms
With single or dual ducting collars
Available as wall-mount
The Custom Sticky Fume, VOC and Paint Fume Collector, with 56 lbs. of carbon pellets and a 24x24x12 ASHRAE, is designed to filter paint can fumes and solvents. With this machine, you can eliminate 90% of odors and Volatile Organic Compounds (VOCs).
VOC fumes and odors present a serious workplace hazard that needs to be captured and filtered at its point of source. The Custom Fume Booth is designed to extract VOC fumes and odors and prevent them from entering an operator's breathing zone.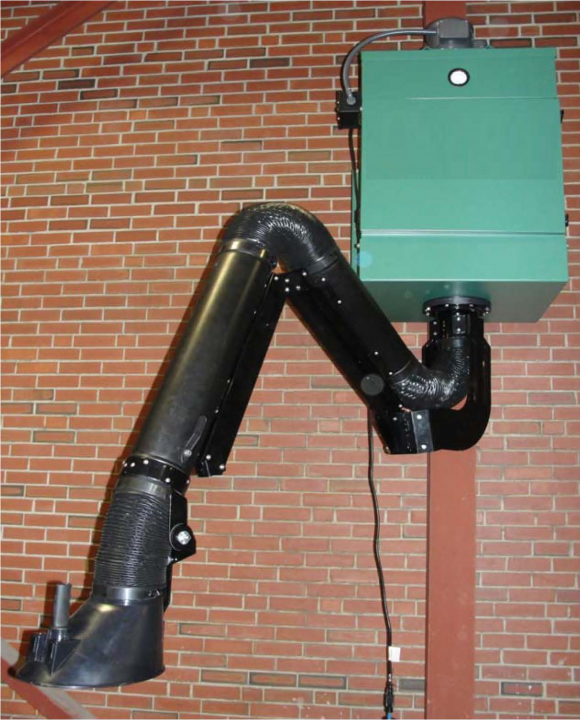 The Wall-Mount version shown here can filter sticky fumes and odors, or it can take a .3 micron @ 99.97% eff HEPA for toxic dusts.
The Custom PDB-1500 high porosity activated carbon granules are specially designed to absorb most industrial VOC fumes. Depending on the VOC being generated, we can offer customers several different types of carbon pellets as well as other absorption medias, like potassium permanganate and coconut shell. Send us the MSDS sheet and we will select a type of carbon that is specific to it. Standard carbon works well for a lot of applications, but other types of carbon may work even better when matched up correctly with the fume being generated.
Click here for information on replacement filters:
Custom blends of activated carbon and potassium permanganate pellets can cut plastic fume odor by 90%
The explosion-protected Portable Fume Series is a very versatile line of fume collectors that can be set up as a Downdraft Booth, a Backdraft Booth, or with one or two articulating extraction arms. Primarily designed to filter paint can fumes and flammable solvent fumes, the Fume Booth can be set up for odors and VOCs as well as fine dust and sticky plastic fumes. The blower motor options are a TEFC 1 or 1.5 HP motor that sits in the clean-air stream of the unit, as well as an option for a Single or Three Phase Cl 1 Grp D/Cl 2 Grp F&G 1.5 HP Explosion-Proof Motor. Standard filters for paint fumes consist of a ring polyester pad to handle the sticky paint fumes, a MERV 14 fiberglass filter to remove fine particulate, and two (or more) 28 lb. refillable activated carbon trays for odor.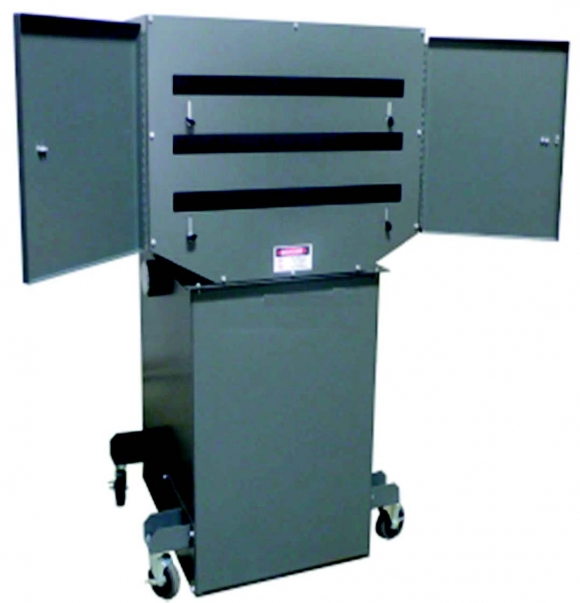 HEPA filtration can be added at the factory or in the field. The Portable Fume Booth can also be used as a mist spray-off booth by changing the filters and adding a drain.
The Custom PDB-1500 is very versatile and is highly customizable and efficient. The poly-pad pre filters are only $17.00-ea and frequent changing of them can greatly prolong the life-span of the more expensive filter stages that come after it.
The Custom Fume Booth units are built in the USA.
Special Features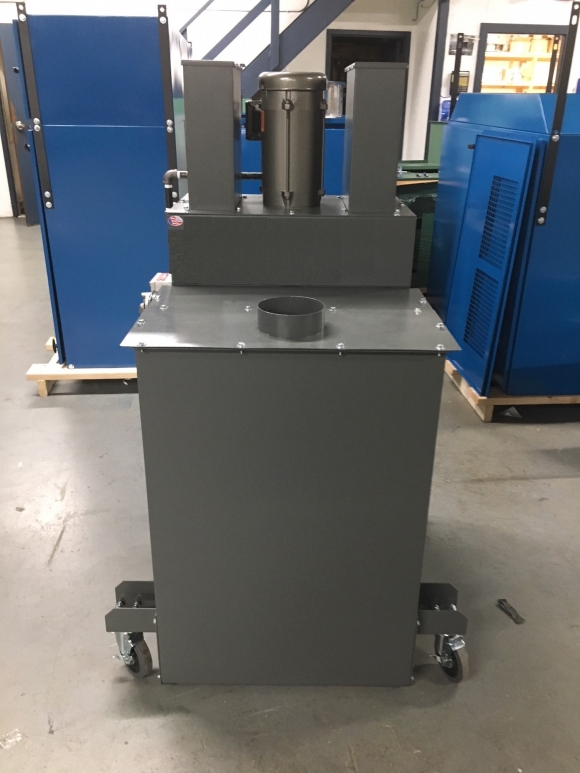 Filters mist, dust, smoke, fume, and odor vapor
Nominal 750 to 1200 cfm depending on motor HP
Four stages of filtration
Minihelic gauge for quick reference of filter loading for ease of maintenance
30- or 48-inch wide downdraft table with hinged side shields
Optional collar or extraction arm inlets
Standard 1ph/115v with On/Off switch
Optional Single Phase Cl 1 Grp D/ Cl 2 Grp F&G 1.5 HP Explosion‐Proof Motor
Optional NEMA 7/9 Starter
Can be set up as a Mist Collector
Watch this video to see more:
Made in the USA!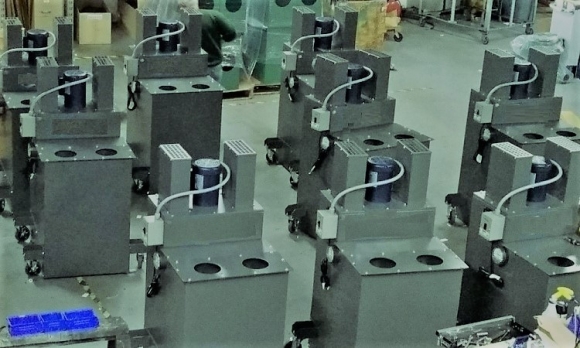 Related Files