Wet and Dry Downdraft Benches for Metal-Grinding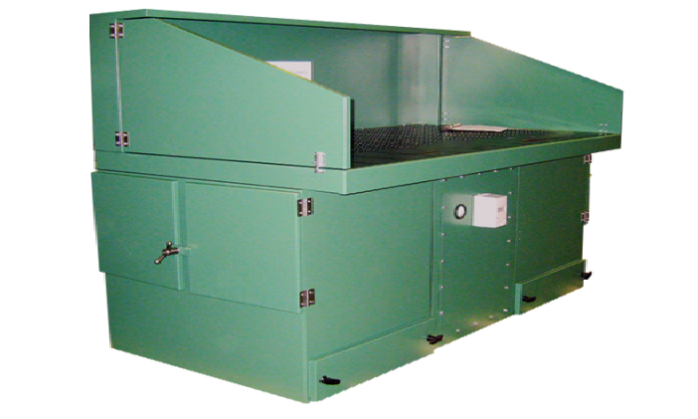 Downdraft Tables for Metal Dust and NFPA484 Compliance. Our HEPA Downdraft Tables draw contaminants away from your workers' vision and breathing zones.
APB Series Downdraft Tables
All APB Downdraft Benches are designed to "source-capture" dust, smoke, fume, and gas/vapor contaminants. Compliant with OSHA and OSHA regulations, each APB Downdraft Bench can be custom designed to fit each user's unique application needs. Typically used for moderate to heavy concentrations of dry dusts and contaminants, the APB Series can be used for grinding, polishing and dry-buffing applications.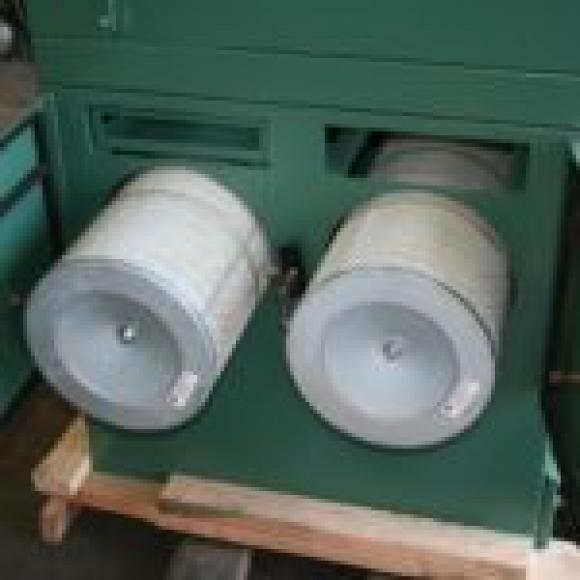 The APB Benches also come with a manual pulse-jet cleaning system with options for auto-pulse and timed-pulse filter cleaning systems. Filter options include washable poly-spunbond cartridges, Nano FR, and 80/20 cellulose.
The APB Downdraft Benches come with steel grates as a standard feature. Non-marking top mats made from rubber or polypropylene are also available upon request. The APB line of heavy-duty Downdraft Benches are used for all kinds of heavy industrial grinding and sanding applications.
Built 100% in the USA. Parts and filters are always just a phone call away. A link to a complete digital owners manual is at the foot of the page.
The Rear HEPA Bank captures sub-micron lead and cadmium particles returning clean air into the workspace.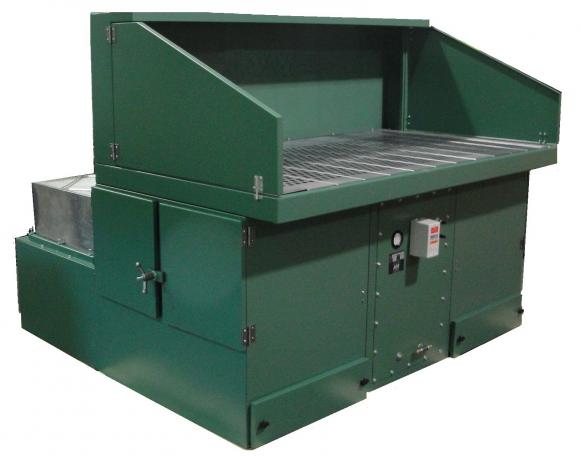 Features and Specifications
Three table top sizes are available: 42"x 50", 42" x 76", and 48" x 102"
Table top velocities are approximately 250 fpm
Typical top load is 75 lbs per square ft.
A variety of custom options are available depending on your unique application
Compliant with OSHA and NFPA
Option for .3 Micron @ 99.97% efficiency HEPA Filtration
Optional 12" shelf that extends the front table-top (depth)

APB HEPA Filtered Tables are designed to capture these harmful dusts: Beryllium, Cadmium, Carbon Steel, Cobalt, Cold Rolled Steel, Copper, Lead, Manganese, Nickel, Stainless Steel.
HAZDUST for XP Metal Dusts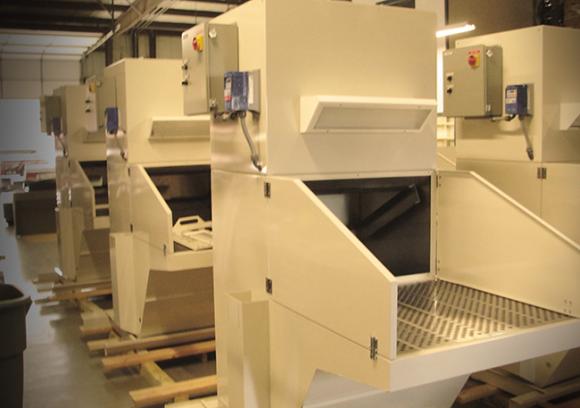 The HAZDUST Wet Downdraft Table is designed to capture explosive metal dust such as aluminum, titanium, magnesium, and commercial alloys. The table meets the codes and requirements from NFPA484. Each unit is rigorously tested before it leaves our shop. The wet portion of the unit is constructed from 304 stainless steel for long lasting life.
The HAZDUST Downdraft tables are available in: 36" x 36", 36" x 48", and 36" x 72". These are table-top dimensions.
CLICK-HERE to see full specifications for the HAZDUST Wet Collectors.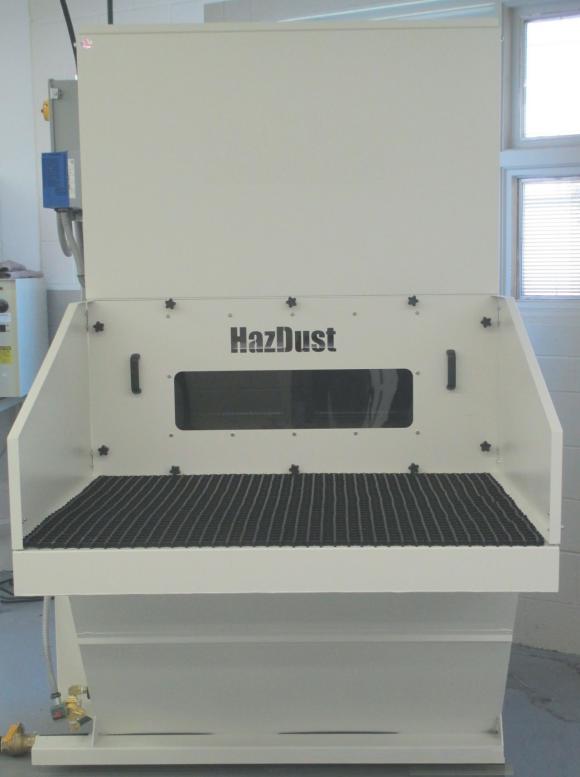 Certified HEPA Filtration with NFPA 484 compliant heat sensor.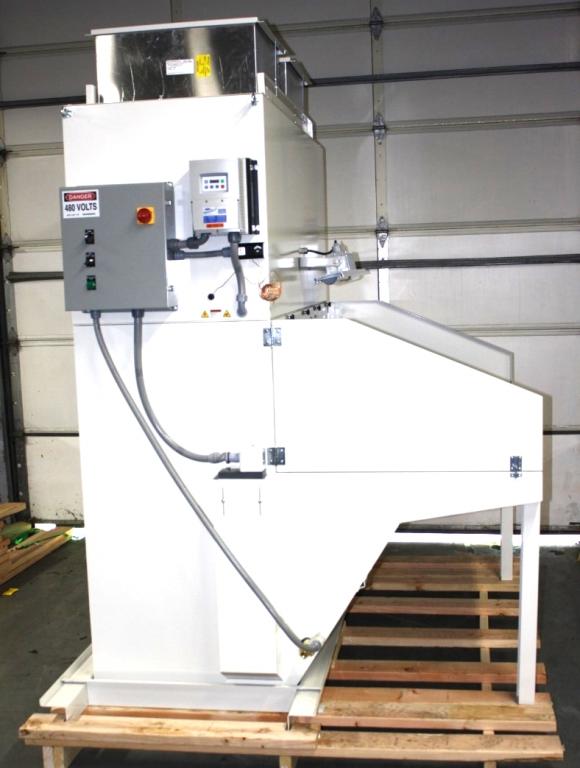 Most Wet Collectors lack proper HEPA Filtration. Most feature a bank of 3" thick MERV 13 cardboard frame furnace filters. Open up your wet collector and see for yourself. Those are not HEPA Filters. Our Wet Collectors and Wet Downdraft Benches have a steel HEPA box. Even the HEPA Filter itself is in a metal housing. If you are tired of seeing aluminum dust exhausting from your wet collector; it is because it doesn't have a proper HEPA. The top-mount HEPA filters your dust down to .3 micron @99.97% efficiency. HEPA Filters have been problematic in the past. When everything dries out, dried aluminum dust remains in the filter which can be hazardous.
On our Wet Dust Collectors and Wet Downdraft Tables we offer HEPA Filtration with NFPA 484 compliant heat sensors for safety and proper compliance. Call us today to learn more!
Additional options
High Level shutdown control
Hinged Table Side Panels
Full Enclosure with Lights and crane slot
Fiberglass Grating for Table Top
Water Filtration Cleaning System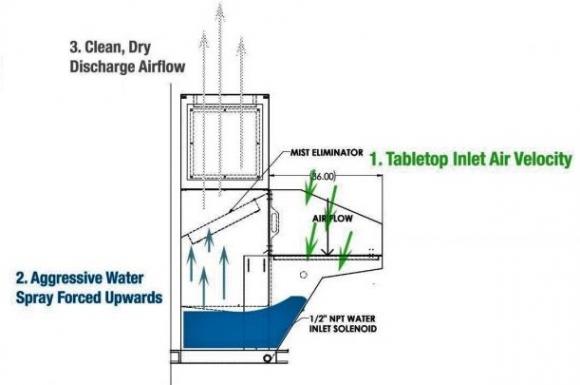 Features and Specifications
Airflows range from 2000 to 4800 CFM depending on table top size and motor horsepower.
Direct drive non-sparking aluminum backward curved blower
Washable polypropylene mist eliminator
Aluminum grating table top work surface.
Automatic water level control with low level shutoff.
High level shutdown control
Automatic shutdown with loss of airflow.
Factory pre-wired control panel
34 inch table top height
Hinged Side Panels
Table designed for handicap accessible
Full specifications for the HAZDUST are HERE
Related Files