Tesla approached us for a paint fume capture solution
When paint overspray fumes are not captured at the source they can migrate into offices and hallways and leave a heavy and unhealthy odor.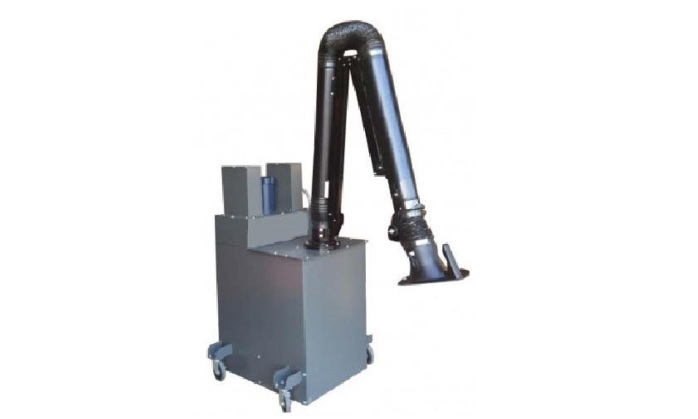 The Problem
Controlled Air Design was approached by Tesla to find a way to capture harmful fumes and VOCs being generated by spray painting small areas of a large aluminum structure. The operator was only spraying an area of about 8" in diameter. There were several of these paint patches around the structure. Each patch had a coat of Rust-Oleum Primer, followed by a top-coat of Trim Black Ultra Matte. The fumes were escaping the work area and all other portable fume collectors that Tesla had tried had failed to eliminate the VOC's coming from the paint overspray.
The Solution
Paint fumes will pass through a particulate filter completely unchanged. I have seem people spend a lot of money on HEPA filtration not realizing that it only filters particulate and does nothing for odors. For that reason the interior filter box of our PDB XP Collector has up to 84 LBS of granular absorption media in 4mm pellet form. This granular media can be activated carbon, potassium permanganate, coconut shell…or any one of a number of various absorption medias. We requested the SDS for both paints and sent them off to our carbon suppliers engineering department for a recommendation. They came back with a custom blend of 4mm pellets housed in individual trays within the collector. We also added a 24x24x12 Rigid Box Filters to capture the sticky wet overspray. Once the VOC passes through the Rigid Cell it passes through three 28 lb carbon cells. We had to slow the airflow rate down so that proper dwell-time of the VOC within the carbon was possible. Too many cfm would only pull the VOC through too quickly not giving it adequate dwell-time.
We recommended our PDB XP Portable Collector with 8" diameter arm. The PDB contained three 28LB cells of 4mm custom blend absorption media, and a 24x24x12 Rigid Box Filter for the wet. sticky overspray. After 4 weeks of using the PDB the operator was easily able to maneuver the full-motion arm and hood to capture 95% and higher of the overspray. The plant manager since reported that air quality had returned to normal and that implementation of the PDB XP Fume Collector was a success.
Related Products